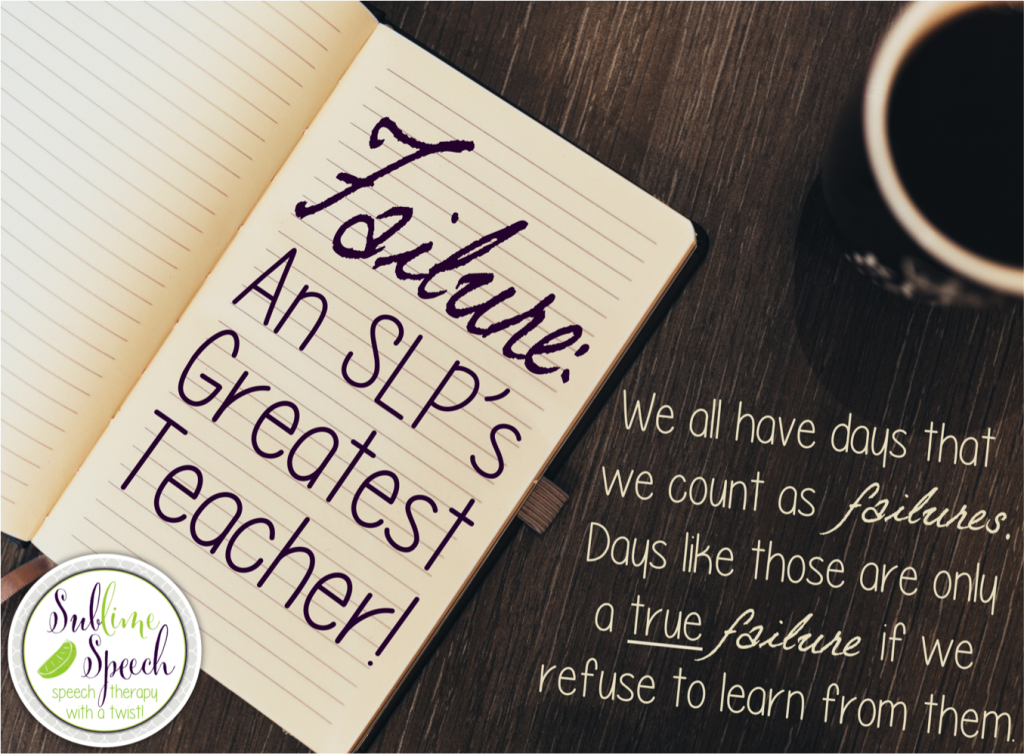 I need to confess something to you: I have failed.
More times than I would like to count, I have failed.  I have failed to be my best, failed to leave personal issues at my speech room door, failed to educate a family adequately, failed to engage my clients, failed to take adequate data, failed to complete paperwork on time, failed at many things.  If you are reading this, I hope you have failed too. (Spoiler Alert: You have failed!)  That may sound like a terrible thing to say, but I promise that it is not.
Failure is one of the most important learning tools you will ever encounter.
When I was in my CFY I expected that I should know everything and was extremely hard on myself when I made mistakes or didn't know an answer.  What did all of those letters after my name mean if I didn't know how to do everything perfectly?  Failure scared me and made me feel insecure.  Thankfully, as I have continued in this career, and in life, my outlook on mistakes and failure has changed drastically.  I found out that mistakes didn't mean the end of the world.  Nothing exploded… or imploded.
I learned from my failures.
Every time I fail, I learn.  I learn new techniques, new approaches, new facts, new methods, and more.  And that makes me a better SLP.  Did you catch that?  Failure makes me better.  We are often so afraid of failure, of mistakes, of anything less-than-perfect that we don't take risks.
I get it, we don't like to look ridiculous or uninformed or unworthy of those 8 letters behind our name.  But, you must take risks, it's an important part of our lives.  Nothing incredible can come without risks – even the tiniest of risks!
Risk a new technique.  Risk acting silly.  Risk becoming "too" invested.  Risk a different approach, a new activity, a parent phone call, and changing "how you've always done things".  You might fail enormously.  Or you might succeed enormously.  Either way, you'll learn an incredible amount about yourself and your strengths, weaknesses, and techniques.  You'll be better prepared for the next situation and a better SLP.
We all have days that we count as failures.  Days like those are only a true failure if we refuse to learn from them.
So, what are the best failures teachers you have had?