For the past year, I have been providing Early Intervention speech services in client homes and daycares.  I spend 30 or more hours per week seeing clients and another 9-10 hours in my car traveling around the city of Chicago (traffic dictates the time of course) to each of those sessions.  There is a lot that I have learned about being a traveling SLP over the past year.  One of the things I have learned is what I need to have to make my "Speechmobile" a functioning "office" during the day.  Here are my top 10 must-haves for every SLP who travels between clients/buildings/etc.
10. Emergency Roadside Kit – Yes, I realize that this makes me sound like your mother.  However, a roadside kit can save your day and your paycheck!  I found a great all-in-one kit at Costco with an included first aid box!  Of course, having weather-related tools is also a must.  Here in Chicago we go from needing a sun shade in the summer to a shovel and all-weather floor mats in the snowy winter months.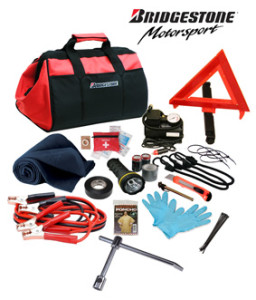 9. Lunch Box – Lunch on the road is difficult to plan for.  I have been very guilty of skipping meals or grabbing convenience foods along my routes.  However, with this new lunch box, I should be ready to go!  You freeze the entire lunchbox so that it keeps food cold all day!
8. iPad/Computer – We utilize WebPT for notes and I know how behind I can get on paperwork if I don't have a way to access this during the day.  There are also occasional last-minute cancellations which leave valuable time for report-writing, etc. that may go unused without tech.  I utilize free wifi hotspots, Starbucks, etc. to access information and do paperwork in my "free" time to decrease time spent doing paperwork at home.
7. Organizers – I love a good trunk or car organizer!  It fills that little void left by desk organizers!  When you're on the road, a few things always need organization: Snacks, trash, and materials.  Here are a few of my favorites:
The Puff 'n Stuff Tissue Dispenser from the Container Store holds trash AND the all-important disinfectant wipes or drink bottle.  I like the utility and that it hangs to the back of the front seat leaving more room in the front seat!
I also love this Foldable Box from the Container Store.  It folds up nearly-flat and easily opens.  The site states that it holds up to 65 lbs but I haven't tested that.  I can use it to organize materials, files, snacks, groceries, etc.  I can also use it to bring things into my home if I need to clear out the car or take stuff into a home.  It's pretty small (less than 2ft. wide) but sturdy.
6. Water Bottle – Staying hydrated is incredibly difficult when you are on the road.  Unless I pack a gallon jug of water each day, keeping hydrated is tough.  I like to make sure I have a full glass of water at the start of my day and have found that many restaurants or families don't mind if you re-fill during your session or break.  This Tervis goodie is my personal favorite:
5. Travel-friendly Office Supplies – You may not need a laminator, printer, copier, etc. on the road but you do need some basic supplies.  My favorites are Staedtler Triplus Fineliner pens, Case-it Z-Binder 2-in-1 binder, Post-it Page markers (smaller than post-its but just as useful), college-lined composition notebooks, and a planner.
4. Snacks – Car-friendly snacks are non-perishable, melt-proof, and nutritious.  My favorites include almonds, granola, PB2 (powdered peanut butter!), apples, dried fruit, popcorn, etc.
3. A Great Bag – I've been through my fair share of bags over the years.  Now I need one that can easily carry laptop and other paperwork goodies as well as a toy or two if I take any in with me to a family.  Each SLP is different.  Some enjoy a good rolling cart/bag, others a tote.  Take time to find the one you like – bring it home and stuff it with your items.  Take it back if you have any doubts!
2. Podcasts – Hours in the car… there's only so much T Swift a person can listen to.  I have switched to NPR which helps but I also enjoy catching up on some great Podcasts.  Some of my favorites are Teach Me to Talk, TED Radio Hour, and Conversations in Speech Pathology.  Even if you don't work from your car, these are great podcasts for you to listen to on your commute.
1. GPS & Mileage Tracker Apps – Depending on where you live, a quality GPS app that utilizes real-time traffic can help you arrive on time for appointments and avoid headaches.  I love the Waze app for this.  It utilizes user reports of issues along with real-time data to take you the best route.  This has saved me so much time in Chicago!  Some companies reimburse for mileage and others do not.  Regardless, a good mileage tracker is worth it!  I utilize MileIQ now and it has been reliable and easy to use.
What is on your must-have travel list?  Comment below!