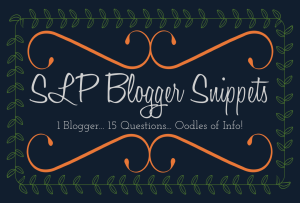 Hello again SLP friends!  We are back today with another incredible SLP Blogger Snippets post!  This bubbly blogger and SLP, Maureen Wilson, joins in on the fun!  Get to know a little bit more about Maureen and The Speech Bubble SLP in the 15 questions below.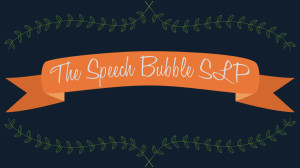 Name: Maureen Wilson
Blog Name: The Speech Bubble SLP
Social Media Links:
Website
When did you begin blogging? December 2012
Why did you want to start an SLP blog?  I thought all the speech blogs out there looked so cool and that it would be pretty fun to start blogging.  Also, my husband works in law enforcement so he has a crazy schedule.  It is nice to have something to look forward to doing on those nights when he works.
What keeps you going as an SLP Blogger? What keeps me going as a blogger are the conversations that get sparked by topics.  We read something, we share ideas, and it becomes this awesome conversation.  Since our field is constantly evolving there are lots of new things to talk about.
What is the most challenging thing as an SLP Blogger?  For me the biggest challenge is two-fold.  Finding the time to blog and making sure what I am sharing is helpful and useful.  I don't want to be repetitive.  I want to share new, fun, creative ideas.  Some of those don't come as quickly as I would like which means there are times where it can be a bit between posts, but I would rather wait for that inspiration to strike than write some words down to fill space.  I want to give you my best!
Which product are you most proud of and why?  Right now, I am most proud of my Intervention Survival Kit. I put months of work into it and it turned out just how I hoped.  I wanted there to be a tool that could be used to make intervention easier to plan.  Everything is all done for you: sessions planned, materials included, and data tracking all in one kit.  It is all laid out to take the stress out of planning activities and make tracking data for RtI easy but still effective.
Which blog post is your all-time favorite?  So far my favorite post has been "How to Make Your Room a Sensory Safe Haven".  I got a lot of great feedback from it and loved that it was a post that was helpful for everyone and their students.
What should SLPs and other followers of your blog know about you as a person?  I am a big goofball and terribly sarcastic, it's a family trait ;).  I love to relax and be outdoors.
Bonus Quick-fire Round:
Vanilla or Chocolate? Chocolate!
Halloween or Christmas? Christmas
Baseball or Football? Football
Cake or Pie? Cake, definitely cake.
Photography or Painting? Photography
Maureen has also offered to raffle a great product from her store valued at $25 to a lucky reader of this post!  Enter below and good luck!
Check back soon for another installment!