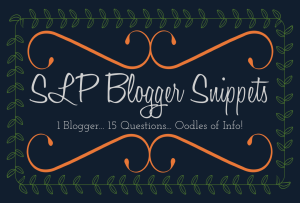 Happy Wednesday SLP friends!  We are continuing today with another fun SLP Blogger Snippets post!  This talented TpT Author and SLP, Courtney Gragg, joins in on the fun!  Get to know a little bit more about Courtney and her TpT journey in the 15 questions below.
Name: Courtney Gragg
TpT Store Name: Speech Therapy with Courtney Gragg
Social Media Links:
Facebook
When did you begin creating materials? October 2012
Why did you want to start a TpT Store?  I have always loved creating original therapy materials for my own students, and I saw Teachers pay Teachers as an avenue to share that passion with others!
What keeps you going as an SLP on TpT? I thoroughly enjoy sitting down to create new products!  There are days when I wish for a giant snowstorm so I can stay cozy in my house and work on materials all day.  Positive feedback from my buyers brightens my mood after a long or stressful day.  Finally, one of the most unexpected aspects about becoming involved with TpT is the collaboration and friendships formed with SLPs around the country!
What is the most challenging thing as an SLP on TpT?  Finding time to create more materials is tough!  In addition to working in an outpatient clinic, I coach group and individual figure skating lessons.
Which product are you most proud of and why?  It is difficult to pick one product, but I will have to go with my book companions.  When working on a book companion, I pick a book that I have used in therapy sessions many times and include a variety of activities to address goals for a diverse caseload.  One book companion usually takes me roughly 30 hours to complete.
Which product is your most popular?  My Match It Quick games are my best sellers!  Match It Quick games come in 13 different sounds and verbs.  Students love the game, and therapists have mad comments such as: "Great compact activity!  Gets lots of practice in and can be used for language kids as well to work on vocabulary and word retrieval.", "Loved this and so did the kids!  It was especially good to target spontaneous productions.", and "Great! Quick, compact and good for older kids and visual learners!".
What should SLPs and other followers of your TpT store know about you as a person?  I'm a Starbucks-addicted introvert who will talk your ear off once I get to know you!  I love traveling and studied abroad in Germany for 6 months.  I would like to work as an English-speaking SLP in Germany some day, but I am still waiting for an opportunity to arise! (Anyone have connections?!?)
Bonus Quick-fire Round:
Country or Pop? Pop
Roses or Lilies? Roses
Bath or Shower? Shower
Ketchup or Mustard? Ketchup
Printed Books or eBooks? Printed Books
Courtney has also offered to raffle a great product from her store valued at $4 to a lucky reader of this post!  Enter below and good luck!
Check back Friday for another installment!