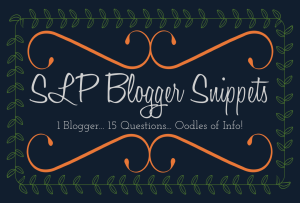 T.G.I.F. SLP friends!  On this fabulous Friday we are back with another awesome SLP Blogger Snippets post!  This great blogger and SLP, Whitney Smith, joins in on the party!  Get to know a little bit more about Whitney and Let's Talk! in the 15 questions below.
Name: Whitney Smith
Blog Name: Let's Talk! with Whitneyslp
Social Media Links:
Website
When did you begin blogging? June 2012
Why did you want to start an SLP blog? I started blogging because I was looking for a creative outlet and a way to collaborate with and learn from other professionals.  I also wanted to be able to better explain to parents, teachers, other professionals, and even my own family what it is that I actually do!
What keeps you going as an SLP Blogger? Meeting new friends!  I honestly never could have imagined I'd meet such wonderful friends along the way.  Having them to rely on for advice and help and hearing from other people about how they have used something I made makes me so unbelievably happy!  It has truly been a surreal experience.
What is the most challenging thing as an SLP Blogger?  The most challenging thing about blogging is by far finding the time.  Between a full-time job and part-time job, being a wife, raising a q year-old, exercise, and regular day-to-day chores, finding time to blog and create new materials isn't easy.  We recently relocated from St. Petersburg, FL back to our hometown in South GA.  We both started new jobs, built a house, and the baby started walking.  Needless to say, I got waaaayyy behind on everything over the past 4 months.  And I've come to realize that it's okay.  I do what I can do, and try not to sweat over the rest.  Blogging and creating materials are relaxing and therapeutic to me.  If it ever started feeling like a chore or another job, I'd have to take a step back and re-examine things.  I don't need another job.  I already have several!
Which product are you most proud of and why?  I think the product that I'm most proud of is my Monthly Book Club Bundles.  There are 4 companions for each month.  Each month includes a Fictional Story, a Non-Fictional Story, a Year-Round Story, and a Seasonal/Holiday Story.  They make planning for the month a breeze, and my students are loving them!
Which blog post is your all-time favorite?  "Personal Story Grammar Marker Ideas" I LOVE SGM, and use it all the time (even now that I've transitioned out of the school setting and into the clinical setting). I've received so many follow-up questions and comments about this blog post.  I love hearing from readers and learning from them as well!!!
What should SLPs and other followers of your blog know about you as a person?  I love family, kids, reading, and the beach.  I grew up on an Angus cattle farm in South GA, and have been married to my high school sweetheart, Chad, for three years.  We have two miniature schnauzers, Maia Jane (4) and Maggie May (3), and a human baby girl, Halle Jane (13 months).  While I enjoy working with kids of all ages, I have a particular place in my heart for those children with Autism.
Bonus Quick-fire Round:
Water or Soda? Soda – More specifically, Coke (we served Coke in glass bottles at our wedding!)
Pizza or Spaghetti? Pizza
Ferris Wheel or Roller Coaster? Roller Coaster
Boots or Sandals? Hmmm… I don't wear shoes unless I have to!  So I guess sandals, because they're easier to kick off!
Pink or Purple? Purple
Whitney has also offered to raffle a great product from her store valued at $5 to a lucky reader of this post!  Enter below and good luck!
Check back on Monday for another installment!