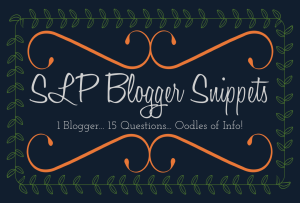 Welcome back!  On this marvelous Monday we continue our fun SLP Blogger Snippets posts!  This awesome blogger and SLP, Kristin Sumstad Cummings, joins us!  Get to know a little bit more about Kristin and Simply Speech in the 15 questions below.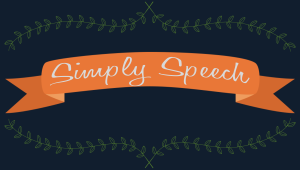 Name: Kristin Sumstad Cummings
Blog Name: Simply Speech
Social Media Links:
Website
When did you begin blogging? August 2011
Why did you want to start an SLP blog? I spent the entire summer of 2011 browsing Pinterest and collecting amazing ideas for the upcoming school year.  Every crafty idea that I fell in love with linked back to a teacher's blog.  So, I was inspired to create a speech blog in hopes of connecting with other therapists and sharing amazing ideas.  I would have never expected blogging to be where it is today!
What keeps you going as an SLP Blogger? I am motivated by feedback from readers.  When I know that others enjoy my posts or that it has motivated another therapist to get creative in their therapy rooms, I am motivated to do more!
What is the most challenging thing as an SLP Blogger?  Finding time!  Between being a mommy, wife, and full-time therapist, there is never enough time in the day.  But blogging is something that I love and make sure that I do set time aside for it.  It's my "me" time 🙂
Which product are you most proud of and why?  I am most proud of my Auditory Processing Party!  When I created this activity, I was working with a student with a cochlear implant and auditory processing goals.  I was always searching for fun, new therapy activities without much luck.  So, I created my own.  The activity sold really well, but I am even more proud of it because my student loved it!
Which blog post is your all-time favorite?  I really enjoyed writing my "Final Post on Speech Centers" blog post.  Throughout the 2012-2013 school year, I had been posting about running speech centers in my speech room as part of an Inquiry Project I was doing at school.  This post let me share my presentation and findings on how successful the centers were for both my students' goals and behavior during the year!
What should SLPs and other followers of your blog know about you as a person?  I love my job.  Before I wanted to be an SLP, I wanted to be a teacher.  I have always loved kids and watching them learn.  I am also a huge goofball and love spending as much time with my family as possible.
Bonus Quick-fire Round:
Books or Magazines? Books
Town or City? City
Facebook or Twitter? Facebook
Pancakes or Waffles? Pancakes (I'm eating one as I write this!)
Call or Text? Text
Kristin has also offered to raffle a great product from her store to a lucky reader of this post!  Enter below and good luck!
Check back soon for another installment!