Happy Halloween!  I admit, Halloween is my 2nd least favorite "holiday" next to Valentine's Day.  But, this year I enlisted the help of my friends on Instagram to help me come up with the spookiest things to an SLP… regardless of the time of year!  I'm sure you'll agree that this TERRIFYING list is true for most SLPs but that we still love our jobs!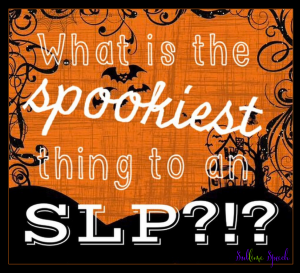 ~ "Twick-ow-Tweating"
~ Whatever came flying out of that preschooler's nose and mouth and landed on my face!
~ Lice, bed bugs, and other creepy-crawlies.
~ A broken Cariboo game!
~ There's this one mom…
~ Cleaning dentures.
~ Medicaid.
~ Paperwork.
~ Infectious diseases.
~ 60-day timelines.
~ A referral in your mailbox.
~ When your hand sanitizer (a.k.a. Hanitizer) runs out!
~ Accidentally drinking your patient's water.
~ /r/… need I say more?
~ Realizing you need 10 CEUs by December
~ "Me do it"
~ Running out of Bubbles
~ A new IEP/paperwork system.
~ Data, percentages, and +/-… oh my!
~ An invasion of the Unthinkables.
~ Scheduling that new kid into your packed week.
~ AAC device in a closet instead of with a kid.
~ Boys and ghouls!
So,  what would you add to the list?  I hope you enjoy the spooky holiday with clients and family!