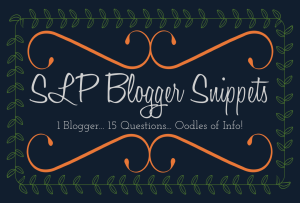 The fun SLP Blogger Snippets continues today with a little be more about me!  I would love to tell you some quick snippets about Sublime Speech and about myself in the 15 questions below.
Name: Danielle Reed
Blog Name: Sublime Speech
Social Media Links:
Website
When did you begin blogging?  January 2012 (Take a look at how it began)
Why did you want to start an SLP blog?  I started blogging as a way to document the different ideas that I had for spicing up my therapy.  I was striving to make therapy sessions fun and interesting and new for my students.  Putting it out there in a blog was to possibly help anybody who happened upon it.  I wanted to push myself to create and learn through the blogging medium.
What keeps you going as an SLP Blogger?  Networking with SLPs from across the globe and seeing how inventive and creative we, as a group, are keeps me going.  I love seeing my products or ideas in use in your therapy sessions.  It is also a great personal challenge to me to maintain my creativity and learning.  I love to learn new things about our field from other bloggers, readers, articles, apps, reviews, and  so much more!
What is the most challenging thing as an SLP Blogger?  Finding time to fit it all in each week can be a challenge.  After working a full-time job as an Early Intervention SLP, I also need to find time to create products, post reviews, and author blog posts.  I typically work on blog "stuff" on most evenings and weekends.
Which product are you most proud of and why?  I definitely have a love-hate relationship with all of my No Print materials because they are such a hit but they take an incredible amount of time.  I think my most recent material, Mason & Mia Mouse, is my new favorite because it is a comprehensive pack targeting skills that Pre-K clients need!
Which blog post is your all-time favorite?  I put my all in each post but my 2-part series "Dear SLP… Love, Your CFY Self" and "Dear CF… Love, Your Future SLP Self" was a joy to write because I got great ideas from readers about what to include and it was well-received by so many SLPs and future SLPs!
What should SLPs and other followers of your blog know about you as a person?  I have always been a traveler at heart (blame it on my Army Brat roots) and have visited 30 states (no, airports don't count) and a handful of other countries.  When I'm not blogging or being an SLP, you can usually find me with a camera in hand, exploring my amazing city (Chicago) or hometown (Kansas City), or checking out a local antique mall.
Bonus Quick-fire Round:
Summer or Fall? Fall!  Love the leaves, warm drinks, and hoodies!
Pen or Pencil? Pen all the way, I hate the way pencils feel!
Early Bird or Night Owl? Night Owl
Washing Dishes or Doing Laundry? Dishes… I hate folding laundry!
Gum or mints? Mints
I would LOVE to raffle a fun product from my store to a lucky reader of this post!  Enter below and good luck!
Check back soon for another installment!