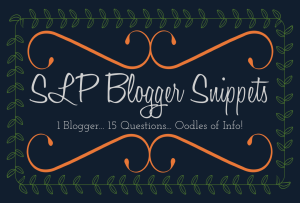 The fun SLP Blogger Snippets continues today with another incredible blogger and SLP, Lauren LaCour!  Get to know a little bit more about Lauren and Busy Bee Speech in the 15 questions below.
Name: Lauren LaCour
Blog Name: Busy Bee Speech
Social Media Links:
Website
When did you begin blogging?  October 2012
Why did you want to start an SLP blog?  When I first started out, the main reason I began blogging was honestly to distract me from some personal situations I had going on.  I was also creating a lot of my own materials and loved the idea of being able to share and connect with other therapists around the globe!
What keeps you going as an SLP Blogger?  I love hearing how much your students enjoy using my products or therapy ideas!  Knowing something I created is helping a child across the country or making a therapist's life a little easier is so amazing.  Plus, I absolutely love getting to network with the SLP community.  All of your encouragement keeps me going for sure. 😉
What is the most challenging thing as an SLP Blogger?  The most challenging thing is probably trying to manage my time.  It can be hard to juggle work life, social life, church, blogging, and creating materials creation all at the same time.  Gotta keep the priorities straight!
Which product are you most proud of and why?  Even though I LOVE my planner, the product I'm most proud of would have to be my Common Core Based RtI Assessments.  It was something that was super needed for me, since we have to have pre- and post-RtI scores on all evaluations.  It definitely comes in handy a lot, and I've loved getting all of your great feedback on it as well.
Which blog post is your all-time favorite?  I try to work hard on all of my posts, but the one that was the most heartfelt, yet necessary for me to write was "Dear Teacher, Love Your SLP".  It even won an edublog award, amazingly enough.  (Read the blog post here)
What should SLPs and other followers of your blog know about you as a person?  I love Jesus and my family and am super involved in my church.  🙂  I also like to read and cook and craft a lot.  I'm often found reading on my Kindle, searching for a new recipe, or drowning in ribbons and glitter.
Bonus Quick-fire Round:
Coffee or Tea? Both but probably coffee 🙂
Elmo or Ernie? Elmo
Salt or Pepper? Pepper
PC or Mac? Mac
Sky Dive or Bungee Jump? Neither!!
Lauren has also offered to raffle a great product from her store to a lucky reader of this post!  Enter below and good luck!
Check back soon for another installment!