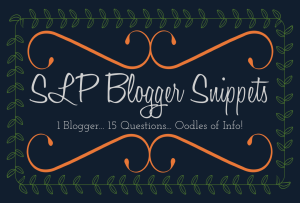 As one of the most followed SLP Bloggers, Jenna has helped to transform how SLPs find and use materials and ideas in their speech rooms.  Get to know a little bit more about Jenna and Speech Room News in the 15 questions below.
Name: Jenna Rayburn
Blog Name: Speech Room News
Social Media Links:
Website
When did you begin blogging?  September 2011
Why did you want to start an SLP blog?  I wanted to start a blog because I loved reading teacher blogs.  I loved the community that teachers had built and was hoping to find something similar with SLPs.
What keeps you going as an SLP Blogger?  Feedback from fellow SLPs.  I learn twice as much as I share!  I love when people comment and tell me a spin off idea or another idea to target the same goal.  I just love the collaboration across the world that can happen!
What is the most challenging thing as an SLP Blogger?  Finding time to do it all.  I work full time in a school, work a part time job in a clinic, and blog in my spare time.  It takes a lot longer than you might think to write a blog post!  The other thing that is time consuming is managing the old information!  A lot of times people email me because a link is broken in an old post.  30 minutes later I have it fixed and open the next email and find the same thing! I can always find a way to waste a few hours managing my blog.  The challenging thing is finding the time to keep it up to my standards!
Which product are you most proud of and why?  Right now I'm most proud of my Interactive Vocabulary Books.  People are writing heartfelt messages thanking me for giving them something that they can use with parts of their caseload they struggle with.  They can print, prep, and then walk into their most severe classroom and get functional communication.  It makes me really excited to make a difference for people!
Which blog post is your all-time favorite?  My all-time favorite post is one I wrote about what I learned at my first job.  When I sat back to reflect, everything important I learned was about my relationships with fellow professionals.  (Read the blog post here)
What should SLPs and other followers of your blog know about you as a person?  I'm happiest at the beach with a book in my hand.  I love my family.  I wish we could all live on the same street and see each other more often.  I love to play games and craft.  Game and craft nights are the best!
Bonus Quick-fire Round:
Fruit or Veggies? Fruit
Theatre or DVD?  DVD
M&Ms or Skittles?  M&Ms
Silver or Gold?  Gold
Lake or Ocean? Ocean
Jenna has also offered to raffle a great product from her store to a lucky reader of this post!  Enter below and good luck!
Check back soon for another installment!