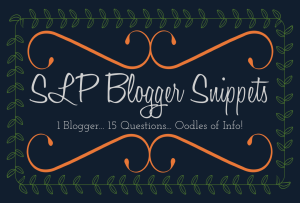 The fun SLP Blogger Snippets marches on today with another insanely talented blogger and SLP, Jenn Alcorn!  Get to know a little bit more about Jenn and Crazy Speech World in the 15 questions below.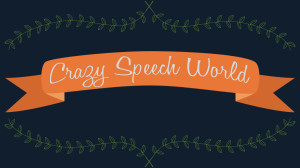 Name: Jenn Alcorn
Blog Name: Crazy Speech World
Social Media Links:
Website
When did you begin blogging?  June 2012
Why did you want to start an SLP blog?  I started reading blogs and fell in love with the enthusiasm I found.  After a few months I thought, "Hey, I wanna do this myself!"
What keeps you going as an SLP Blogger?  The community of SLPs and the relationships I have been able to form through this adventure.  I love the conversations I get to have with SLPs all over the world.  I am constantly inspired by others and blogging helps me be a better SLP.
What is the most challenging thing as an SLP Blogger?  Putting yourself out there in such a public way leaves you open to criticism, and that can be hard to take.  Obviously, I want everyone to love what I have to say and share, even though I know that not everyone will and that's okay.  But, it is a little nerve-wracking to put my heart into something and press publish!  Luckily, the critics are few and far between. 🙂
Which product are you most proud of and why?  My Common Core Rating Scales.  These have helped me in my own school to make my therapy relevant to the classroom, but also for helping teachers understand how a student's communication skills impact their academic performance.
Which blog post is your all-time favorite?  "If You Call Me a Speech Teacher One More Time…" has sparked some great conversations and it's interesting to hear how differently people feel about it.
What should SLPs and other followers of your blog know about you as a person?  I would rather be at home with my family than anywhere else.  I am loud and crazy with my friends, but put me in a group of people I don't know, and I am super quiet!  And I think there is no problem that a good laugh over a glass of wine can't fix. 🙂
Bonus Quick-fire Round:
Morning or Night? Night
Cats or Dogs? Dogs
Instagram or Facebook? Instagram
Red or White? Red!
Dolphins or Whales? Dolphins
Jenn has also offered to raffle a great product from her store to a lucky reader of this post!  Enter below and good luck!
Check back soon for another installment!