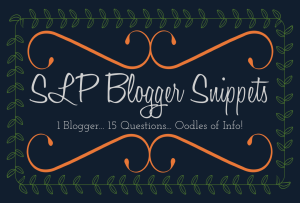 Hello again peeps!  We continue today with another incredible SLP Blogger Snippets post today!  This superb blogger and SLP, Nicole Allison, joins in on the fun!  Get to know a little bit more about Nicole and Allison's Speech Peeps in the 15 questions below.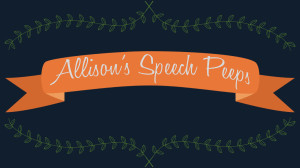 Name: Nicole Allison
Blog Name: Allison's Speech Peeps
Social Media Links:
Website
When did you begin blogging? June 2012
Why did you want to start an SLP blog?  Simply stated – I needed other SLPs.  Being the only SLP at a district can sometimes make you feel like an island.  There's no one to run to when a student won't come out from under your table, to cry to when you still have 60 more progress reports to write by tomorrow, or bounce ideas off of.  I received all this and more.  Never in my wildest dreams did I imagine the plethora of blessings that would come from starting this blog.  Some of my best relationships are with my readers.  I am so thankful for this amazing journey blogging has brought.
What keeps you going as an SLP Blogger?  Honestly, it's the relationships I've formed with my readers.  SLPs in general are some of the most caring, considerate and thankful people in the world (in my opinion).  When I create a new product or post an article, the incoming thank yous and encouraging comments I receive is so worth the work!
What is the most challenging thing as an SLP Blogger?  Balancing it with my "other life" lol!  My husband and I just had our first baby in April and at times, I need to just take time away from the blog to simply be "a mom".  on the side, my husband and I enjoy renovating houses and doing volunteer work.  Speech therapy is such a love for me that I could spend hours a day doing "work".  However, sometimes blogging needs to take a backseat and I need to be okay with that.
Which product are you most proud of and why?  Hands down, it would be my Curriculum-Based Language Assessments.  I create products out of my own need and not only has this product made baseline-gathering easier for me, so many encouraging buyers have also let me know that it is benefiting them.
Which blog post is your all-time favorite?  "Writing Standards-Based IEPs" is my most-proud-of post.  From start to finish it took me about a month to write because I thoroughly researched the topic.  It is meant to be a resource for SLPs around the country trying to navigate the new Common Core Standards and how they apply to our field.
What should SLPs and other followers of your blog know about you as a person?  My faith is extremely important to me.  I believe God led me to this field and my students are sort of like my mission field.  On those days that I want to throw up my hands, He keeps me going and I'm so thankful for that.
Bonus Quick-fire Round:
TV or Movies?  TV
Sunrise or Sunset? Sunrise
Snow Day or Summer Break? Snow Day
Dark Chocolate or Milk Chocolate? Milk Chocolate
Cooking or Baking? Baking – definitely!
Nicole has also offered to raffle a great product from her store valued at $28 to a lucky reader of this post!  Enter below and good luck!
Check back soon for another installment!