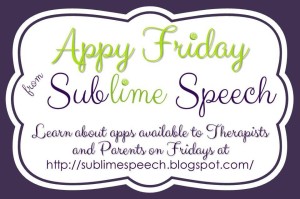 I recently had the opportunity to try 
Smarty Ears
' app – 
iPractice Verbs
.  It is described as a an app 
developed to help children learn and practice basic English verbs in a variety of levels (word, phrase, sentence) and tense forms (present, present progressive & past tense).  
Here's more…
Once the app is open, this is the screen you begin with.  The colorful design of this app is highly motivating for use with children:
You can see in the top left that the "support" option allows for additional information/options.  I would start by watching the video tutorial included to learn more about using the app.  To begin, choose "Start Practice" and move to this screen where you can choose a player or create/import clients FROM the TRC if you utilize that option.  The player box will appear colored on selected player(s).  Choose "start" when you have selected the player(s) you will be working with.
You will have the option for flashcards or find it.
Then you will have the ability to select/deselect verbs that will be practiced.
In the Flashcards you are able to easily move from present to present progressive to past tenses.  You can also move from word to phrase to sentences without exiting!
The find it section has you select the type of format of the verb before beginning: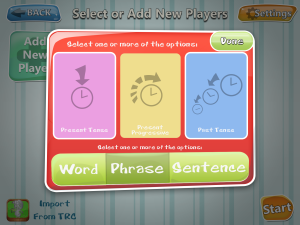 Students then select the correct photo of the verb said and shown in text.  If they choose correctly, a star appears.  If not, the image they chose disappears and they are given another chance.  When it is selected correctly, the photo appears larger to allow for practice of the verb before continuing on.
There is homework included as well which is one of my favorite things about Smarty Ears apps!
In the Report Center you can view the child's "sticker page", progress cards, or generate a certificate.
This is an example of the progress cards:
When you decide to generate a certificate you fill out the following:
And the certificate appears like this: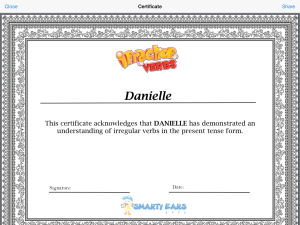 Learn more by watching this video:
Overall this is a useful and motivating app for children.
Here is my quick pros/improvements list:
Nice, colorful, stimulus photos.
Clear voice on stimulus items.
You can easily modify settings from the main page.
You can target receptive and expressive by recording the correct answer.
Data collection for each client is included!
Built-in compatibility with Therapy Report Center helps with report writing and progress monitoring.
Stickers received are motivating for many students.
Enter to win a copy of all 3 Smarty Ears apps that are featured this week!
 Disclosure: Smarty Ears provided a copy of this app for review.  No other compensation was provided and all opinions are that of the author.