Hello 2016!  I hope this year brings you a wonderful journey with learning and laughs!  This is already a year of change for me!  I recently decided to go back into the schools and to continue doing Early Intervention part time in the evenings.  It has been a huge decision, but one that I am very glad that I have made!
If we're going to be 100% honest with one another, I was a little hesitant about the move for one reason… being "just" a school SLP again.  Now before you race to social media or your e-mail to blast me with hate mail for that sentence, hear me out.  This is the dirty little SLP secret that is rarely spoken about except in hushed tones amongst SLPs… there is a huge misconception out there that school SLPs have it easy and are not complete and total rockstars like SLPs in other settings such as NICU, SNF, Rehab, etc.  It was one reason that I initially left the schools for Early Intervention.  I thought that working in more of a medical setting would bring with it a greater feeling of fulfillment and respect.  To be honest, it did and it didn't.
After nearly 2 years in EI, I am happily back within the schools.  I'm "just" a school SLP again, and that is awesome.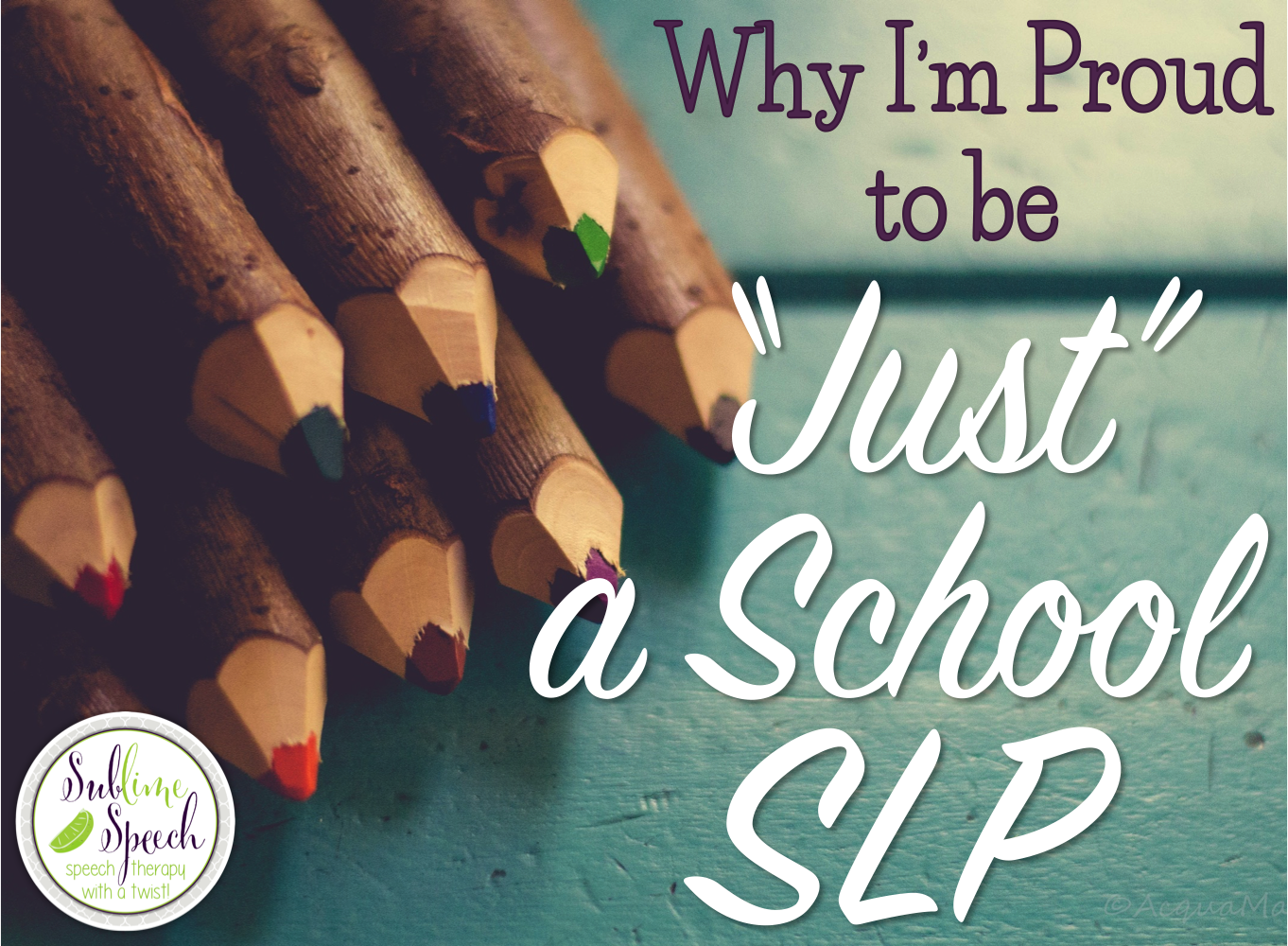 Here's what a lot of SLPs in other settings may not readily admit to school SLPs: They respect school SLPs and the job they do and they would NEVER want to do that job!  There are many reasons why I'm proud to be "just" a school SLP again, here are just a few:
I love working with kids, and I'm pretty good at it.  This may sound obvious but many SLPs in other settings prefer to work with adults.  They may even have struggled in placements where they had to work with children/teens.  It's not easy to work with small humans.  They sneeze in your face and have goals to work on /r/; two of the most feared things in the world of an SLP.  Not everybody is equipped to handle these!  School SLPs are incredible because they work with kids and they love it!
School SLPs are master collaborators.  Collaboration, in some form, occurs in most work environments.  When you work in schools you need to be a collaboration machine.  Communication impacts children across their educational environments and the school SLP needs to be able to consult with teachers and other school personnel about ways to help children with their communication needs.  This requires an ability to communicate with various adults in varying positions within the school environment.  SLPs also collaborate on evaluations and IEPs.  It's not an easy job, but somebody needs to do it, and the school SLP is that person!
School SLPs are EXPERTS. Sometimes the level of expertise of school SLPs is misunderstood and/or underestimated.  I'm here to tell you that school SLPs are experts in so many areas and ways.  School SLPs are experts in articulation, language, fluency, AAC, autism, apraxia, technology, and so much more!  These SLPs attend hours of continued training in these areas and are truly experts in our field.
I am adaptable, I am flexible, I am important. The HELP references aside, school SLPs are all of these things!  SLPs working in schools are operating in a constantly changing environment.  I am not referring to treatment, I'm referring to education.  Between the common core, ever-changing curricula, staff changes, policy changes, school placement changes, and so much more, school SLPs need to be ready to adapt to what each school year brings with it.  SLPs who work in schools are also very flexible.  Schools and children are very unpredictable. Schedules change on a moment's notice, student behaviors occur during transitions and within therapy, adjustments to therapy schedules and groups occur to accommodate for classroom and school activities, and much more.  All this to say, school SLPs are very important!
School SLPs change lives.  I wasn't sure if I wanted to include this one.  (That's another thing school SLPs battle: self-doubt)  However, the more I thought about it, the more I realized that it is absolutely true.  It's not an exaggeration.  One reason that I became an SLP was to help people that could not communicate.  As a school SLP we get to do that!  We get to help students become effective communicators.  Being an effective communicator can change a life.  Maybe we help a student make their speech more intelligible or help them understand social language or help them to understand Wh questions… all of these things impact their lives.  You don't need to be in a medical setting or wear scrubs to change a life!  School SLPs do this every day (even on jeans days!).
So, I'm incredibly proud to be "just" a school SLP again.  However, if we're going to be 100% honest with one another, we know that they aren't "just school SLPs"…
They are Speech-Language Pathologists.