Fall is my favorite season of the year!  However, I've never been a huge fan of Halloween… but my clients definitely have been!  This year, I decided to find some great books to integrate into therapy with my EI/Pre-K clients.  These books elicit great vocabulary, concepts, and overall language.  They will allow you to target multiple goals in a session while enjoying the season.  I wanted to get this information to you now so that you can plan for next month!  The majority of these books are widely available through vendors like Amazon, Target, and Barnes & Noble.  I have also provided easy links to Amazon with each book.  Enjoy!
Is That You, Monster? by Steve Cox is a really fun book for Speech and Language Therapy sessions.  In this book, the characters are at a campout in their backyard.  However, Sam, the main character, thinks that there is a monster in the backyard.  On each page there is a touch-and-feel pocket that you can place your hand inside – only if you are VERY brave!  There are various textures and descriptions that are targeted in this book (sticky, furry, etc.) and are incredible for language.  Spoiler alert – a large, somewhat scary 3D monster pops out at the reader on the last page.  (You may want to prepare clients.  They may be scared the first time but will LOVE it every time after!)  Bonus feature – there is a little dangling spider on each page to search for.  This is available as a hard cover book!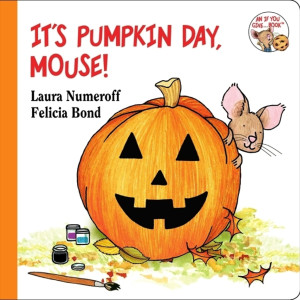 Another great book in the If You Give… series!  In this book, mouse is decorating seven pumpkins with different facial expression.  This is great for introducing social skills to children.  You can expand by discussing what each expression is and when you might feel that way.  Vocabulary Included: mouse, dog, numbers 1-7, colors (red, blue, orange, green, purple), decorate, happy, sad, silly, surprised, scary, friendly, pumpkin, paint, missing.  This is available as a board book!
This is a fun book for young clients.  It is a lift-flap book featuring a baby in a kitten costume looking for her pumpkin.  She looks all around for the pumpkin before finding it. Vocabulary Included: Halloween, pumpkin, leaves, cat, curtain, ghost, closet, bat, bowl, candy apple, bed, witch's hat, door, trick-or-treat, yes, no, under, behind, in, outside, fuzzy, black, friendly, happy, pointy.  This is available as a board book!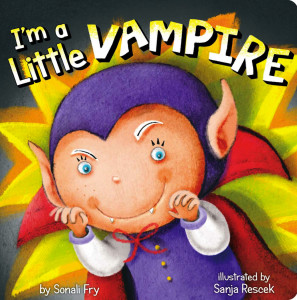 This fun book can be sung to the tune of "I'm a little teapot" for added fun!  I love the illustrations here as well.  It's about a little vampire that loves candy on Halloween.  Vocabulary Included: Vampire, little, short, stout, candy, pout, steamed, shout, treats, special, true, example, frighten, monster.  You can also expand this book to introduction of social skills including manners, expected behaviors on Halloween, etc.  This is available as a board book!
Have you seen the ADORABLE BabyLit books?  I love them and if you are a classic book lover you will as well.  This Dracula version focuses on counting.  You will love the illustrations and ability to expand off of this book.  Basic skills of counting, colors, and more can be targeted here.  Vocabulary Included: Numbers 1-10, various colors, castle, friend, wolf, ship, hero, tombstone, diary, letter, rat, box, garlic, flower. This is available as a board book!
These 5 books are a great start for your October planning for Pre-K and Early Intervention clients and/or for your own children.  The board books provide durability while the stories introduce great vocabulary and concepts for young children.  Target numbers, colors, fall vocabulary, basic concepts, social skills, and more with these great finds!  To purchase through Amazon, simply click any of the links to be taken directly to the products.  Enjoy!