Today we take a look at Sounds at Home by Virtual Speech Center.  You can learn detailed information about the app by watching the video tutorial below.
From the start page you can easily access settings, reports, and reinforcer game along with tutorials and more.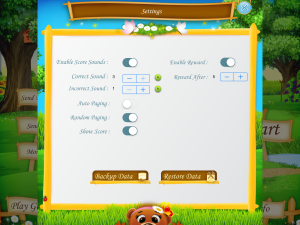 There are some great ways to customize your sessions in the settings.  Changing the sounds and reinforcer amount are very important to me.
Students and their data are stored in app.  To begin you choose the student(s) you will work with.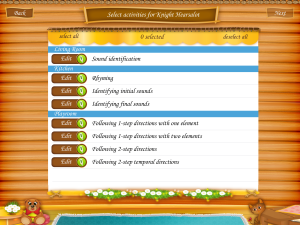 This app targets Auditory Awareness, Phonemic Awareness, and Following Directions.  You can choose the areas and levels you would like to target for each client in your group.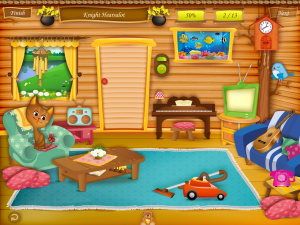 In Auditory Awareness, clients identify the source of sounds that are heard.
Phonemic awareness tasks require the client to find rhyming words.  This takes place in the "kitchen" scene.
These screenshots above demonstrate the various levels of Following Directions.  These range from identifying objects to following simple instructions to following 2-step and temporal directions.  I found this to be the most difficult to operate.  It was difficult to get the objects exactly where the app wanted them on the screen.  The simpler levels were easy to use.
After the student completes their number of correct responses they are automatically taken to the puzzle area.  There are 3 levels of puzzles.  These are pretty easy and I wouldn't expect any children to not be able to complete these though some may require assistance for manipulating the pieces.
Data is kept in-app and accessible at any time after completed sessions.  This is an excellent tool for staying organized and taking very specific data to the area/level.
Overall, this app from VSC is a a great addition, particularly for those working with younger clients (Pre-K through grade 3).  I have not seen many other apps targeting the areas of Auditory Awareness and Phonemic Awareness which is an area that many younger clients struggle with.  The Following Directions section is not my favorite among other apps that offer similar targets.  This app is on sale for just $4.99 in the App Store (regularly $6.99).
Here is the official App-ometer Rating: