I am NOT a fan of spiders but The Itsy Bitsy Spider has always had a small bit of my heart.  I fell in love with this clipart from Apples n Acorns and had to make an adorable activity set for my Pre-K kiddos.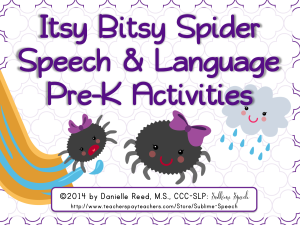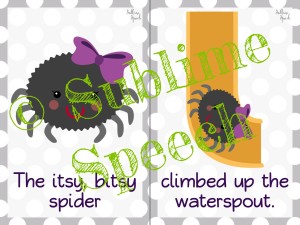 There is of course an adorable set of lyric cards to use when going over The Itsy Bitsy Spider with your students.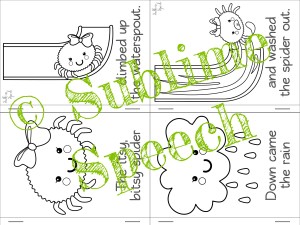 There is a booklet that they can color, assemble, and use.  They can take this home for continued practice or reinforcement.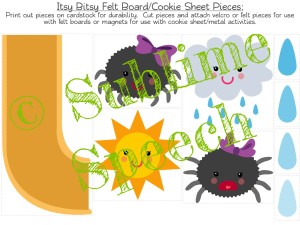 If you use a felt board and/or cookie sheet for your activities these are perfect.  Simply print and laminate and attach velcro/felt or a magnet.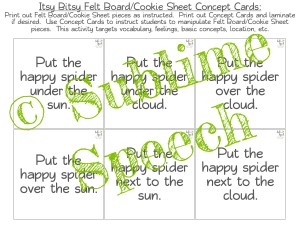 You can utilize the above pieces to have students follow basic concept directions.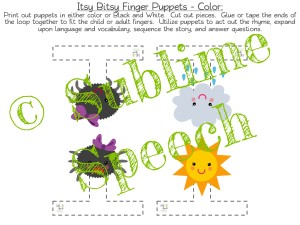 Who doesn't love a good finger puppet?  These can be customized to the child's finger or for adult use.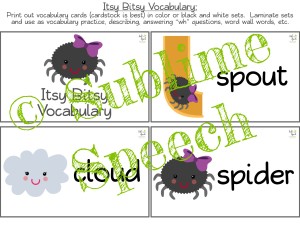 For new vocabulary and/or word walls there are 7 new words that can be used!
Introducing Yes/No and Wh Questions is easy with these cards.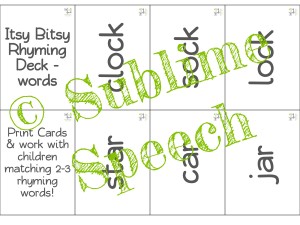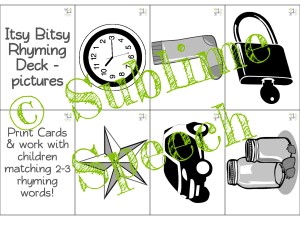 Rhyming sets are provided with this set as well.  Words and pictures are available for the sets.
"Sp" is a tricky blend.  These great cards allow for added practice in speech sessions.
This set is available at the Sublime Speech TpT Store.
Enjoy!