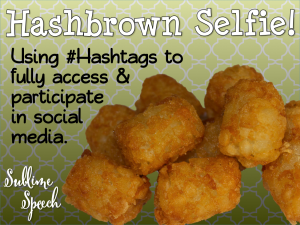 Have you seen the new esurance commercial where a man working in an office is taking a "selfie" by copying his face on the copier and then says "Hashbrown Selfie" to which the co-worker replies, "That's not how it works".  I laugh each time I hear Hashbrown Selfie because it reminds me so much of some conversations that I've had with others about the Hashtag developments in the past few years.
I know that Hashtags may be confusing and somewhat overwhelming for some but I wanted to do a quick post about how using #Hashtags can be helpful to you as a Speech-Language-Pathologist or parent.
Twitter:
Twitter is really not as scary as it may seem at first.  Hashtags (any word/phrase that starts with a # symbol) is a way to "label" or "tag" posts.  Some common tags for SLPs are: #SLPeeps (general SLP tag) #SLP2b (For new SLPs/graduate students) #SLPbloggers (when commenting about SLP blogs/bloggers) and #medSLP (medical site SLPs).  Within a tweet, these hashtags will act like hyperlinks and allow you to click on them and be connected to all other tweets with the same hashtag.  You can also perform a search on Twitter for hashtags.  This is an incredible way to find out interesting information about SLP, follow conversations, and see what's new in the Twitter world for SLPs.
On Instagram, hashtags act very similarly to twitter hashtags.  (However, this does not work by accessing on a computer – only the mobile app)  You can utilize these hashtags to label your photos on Instagram.  These are clickable and will link you to similar posts that used the same hashtag.  Common Instagram hashtags are: #SLPeeps, #SLP2b, #ASHAigers (ASHA Instagramers), and #InstaSLP.  Utilize these hashtags to explore what other SLPs on Instagram are sharing!
Facebook:
Facebook allows users to utilize hashtags but they do not serve as much of a purpose yet.  While you can utilize hashtags and click on them, most individuals do not use hashtags on Facebook and there is not much to explore when you click or search by hashtags.
Overall, hashtags are a great way to discover and explore the social networks.  They also allow you to label/tag your posts in those networks for others to find and interact with.  Social media continues to be an excellent way for SLPs to network and hashtags make it a bit easier to do so.  Now… go celebrate your knowledge by taking a HASHBROWN SELFIE!