Woohoo!  It's that time again… a  TpT sale is coming up next week! In honor of Teacher Appreciation Week (Hey, school SLPs count too right?), Teachers Pay Teachers is hosting a site-wide sale.  This means nearly all of your favorite TpT Sellers will put their store on sale, which combined with the TpT code (TPTXO) will combine for 10-28% off of everything!  These sales happen about 3-4 times per year and save us TONS of money!  This will be the best price you see on materials!  The is happening on Tuesday and Wednesday (May 6-7th).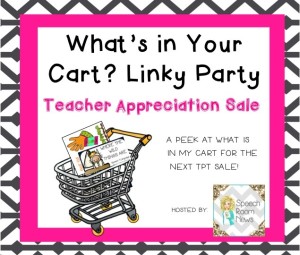 Jenna at Speech Room News is hosting this linky party!  Make sure you head there to catch more great ideas for purchases next week!
First, here are a few new goodies in my store:
I Have… Who Has… Minimal Pairs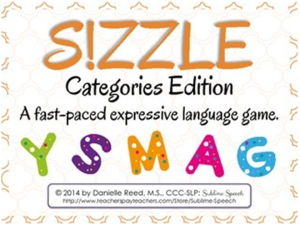 No Print I "Mustache" You a Question: Answering and Formulating Questions
Now… Since I'll be moving back to Chicago and beginning to work in Early Intervention, I will be using this sale to begin to gather some great resources for that population.  Here is what is in my cart!
Little Red Riding Hood: Preschool-K Speech/Language Companion from Jenna Rayburn
Springing into Early Language – A No-Print Packet for Speech Therapy by Rachel Jones
Blooming Preschool Language from Lauren LaCour
Now… Head off and stock up those Wish Lists for easy checkouts next week!  I hope you find some great materials that make speech therapy a blast!
Comment below with what is in YOUR cart!