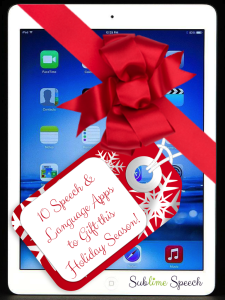 (Part of graphic from http://abali.ru/?p=9869&lang=en and http://www.apple.com/ipad/)
You've seen several of the awesome speech and language gift-giving posts lately.  I'm definitely a proponent of educational toys for our kiddos and strive to purchase hands-on gifts for the kids in my life.  However, I know that many of our speech and language students gravitate toward technology.  There are several great apps out there that can be gifted to kiddos that will allow them to use that "precious" technology while working on their skills without even knowing it!  These are apps I would recommend to parents that want to know which apps their students can use or for your own personal use in gifting apps to the children in your lives.  Typically you might just choose to give an iTunes gift card or the like but giving the app directly ensures that it will be an educational app rather than the newest Angry Birds app.  Here are 10 app suggestions for you:
Peekaboo
These Peekaboo apps are a go-to for me with my EI clients.  Though simple, they have many opportunities for parents to interact with their children in a natural way and target language at the same time.  They can work on asking/answering wh questions, adjectives, expanding sentences, and much more.  Each app has the same premise: A noise is made from the object and the child touches the screen to open it.  Then, the maker of the noise is revealed along with the name of the item.  There are several languages available including Spanish!  My personal favorite is Peekaboo Barn!
(all are $1.99)
Speech with Milo Articulation Board Game
This game board format is a lot of fun for younger kiddos (I would say 3rd grade and under).  The set up allows for a traditional board game play with 1-6 players.  In the "basic" app you can practice the /f/, /v/, /k/, /g/, /s/, /z/, "ch", & "sh".  Additional packs can be purchased for $5.99 (p, b, h, w, y, t, d, m, n, ng), $3.99 (l), $5.99 (r), and $2.99 (th).  The "Pro" version comes with all sounds included.  Overall this is a good app if you want to practice sounds with your kiddo in a fun way that is more like a game and less like "speech" work!
($6.99)                                       ($23.99)
Listen Close Articulation
This articulation game is one that kiddos can do independently.  As with the other FAB apps by
Erik X. Raj
, Listen Close is a unique app.  This game is much like the "Simon" game you loved as a kid!  The sounds targeted on this app are the later-developing sounds of /s/, /z/, /r/, /l/, /s/z/r/l/ blends "sh", "ch", "th" so this app is best for students that struggle with those sounds and are over the age of 6/7 or 1st grade.
($4.99)
Grammar Wonderland
McGraw Hill's apps are great.  These 2 apps target various age-appropriate grammar skills in fun game play.  The "Primary" app, for grades K-2, targets nouns, verbs, adjectives and more.  It reads most of the stimuli to the students so non-readers can do this app independently.  The "Elementary" app, for grades 3-5, also targets nouns, verbs, and adjectives.  It requires reading of the instructions and stimulus words so this is for students that can read without being frustrated.  These apps have a similar platform and have various games included across skill-sets.
($2.99)                                       ($2.99)
Opposites
The Opposites is a great and easy-to-use app from Mindshapes.  Children, age 7+, can work independently or in small groups to identify antonyms through 10 levels of play.  This is great for introducing new vocabulary and flexible word use to children.  This app goes free quite often (it is at the time of this post's publication) but is regularly $1.99.
($1.99)
School of Multi-Step Directions
This app is great for students that have a difficult time following multiple-step directions.  It targets skills needed with students age 5-12.  Some adult support will be needed to select student levels/skills but the app can be done independently with very little instruction.  English, Math, and Science themes are used for 2-4 step directions.  Continued tracking is included to aid parents in choosing appropriate levels for their children.
($18.99)
Language Empires
This app has an ancient civilizations theme and targets the skills of Figurative Language, How, Which (2 levels), Why (3 levels), Predicting (3 levels), Vocabulary (2 levels), Inferencing (2 levels), and Sequencing (3 levels).  Up to 5 players at a time can participate and each can play in different areas at the same time.  This may require some adult guidance but all levels are great work for children.  I would recommend using this with children in K-8 depending on skill level.  Some light reading is necessary but there is audio for the question portions.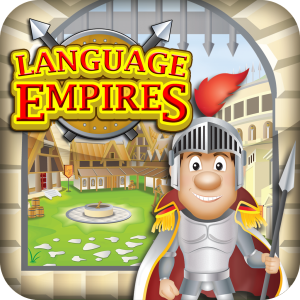 ($24.99)
Social Skill Builder
It's hard to beat this comprehensive app that utilizes real videos to teach and reinforce various social skills.  At this time they have added to the available sections and there are various programs.  The full version offers all 12 modules: "Preschool Playtime" for ages Pre-K to 1st grade currently has 2 areas, "My School Day" for ages 5-12 currently has 6 areas, "School Rules!" for ages 8-18 currently has 2 areas, and My Community currently has 2 areas.  The "lite" version offers 4 of the modules with the other 8 available for $1.99 each as an in-app purchase.  This app may require some parental guidance to select appropriate areas for the child but the rest of the app can be done by the child independently.
($2.99)                                          ($14.99)
Social Quest
Social Quest is an app for older elementary and secondary students.  It targets receptive and expressive pragmatic language skills.  There are several prompts and earned rewards for children.  Some parent guidance may be necessary for younger students.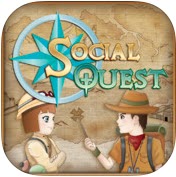 ($21.99)
Toontastic
Toontastic is a fabulous app that allows kids to make and narrate their own cartoons.  We have used this app in my speech room to target everything from narrative skills to expanding sentences to articulation carryover.  It requires the student to think out a plot and record their voice onto the scenes.  It's VERY motivating and the kids just love it.  It will not take much parent direction and kids can work on it together.
           (All Access: $19.99)                             (Free)
($1.99 – Free at time of this post) ($2.99 – Free at time of this post)
So… how exactly do you "gift an app"?  It's pretty easy actually:
From your phone/other iOS device –
Find the app you would like to gift in the app store.
In the top right corner you will tap the "share" button.
Tap the "gift" icon in the next screen.
Sign into iTunes with your account.
Type the e-mail of the person you would like to send the app to.
You can add a message if you'd like.
Pick the day that you want the app sent (sweet for birthdays and holidays!).
Select a gift theme.
Tap "Buy", then tap "Buy to confirm".
From a Mac/PC –
Sign into the app store with your Apple ID.
Find the app in the store that you want to gift.
Select the arrow to the right of the app and select "gift this".
Type the e-mail of the person you would like to send the app to.
You can add a message if you'd like.
Pick the day that you want the app sent.  Click "next".
Select a gift theme.  Click "next".
Click "Buy Gift", then tap "Buy to confirm".
So, if you are looking for an app to purchase for the children in your life or to recommend to the parents of your students, the above are a great place to start.  Students can have fun and learn speech/language skills at the same time!
Do you have other apps you would suggest gifting?  Leave the app and link in the comments below!