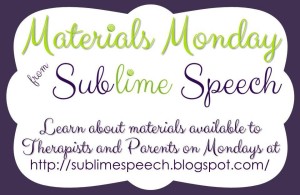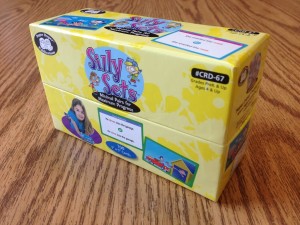 Kim Patterson, M.S., CCC-SLP and Rynette Kjesbo, M.S., CCC-SLP collaborated to author this great 100 card set of hilarious Silly Sets aimed at helping students develop their listening skills and produce correct speech patterns.  They are great for students with phonological disorders as well as other goals such as creating a story based on the picture, articulation carry-over, inferring, and overall expressive language tasks.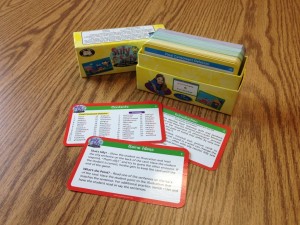 The game includes 5 game ideas as well as information about the processes included:
Final Consonant Deletion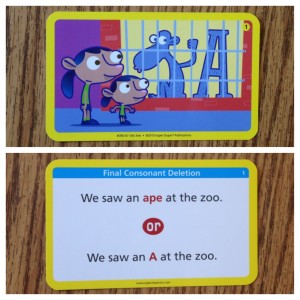 Cluster Reduction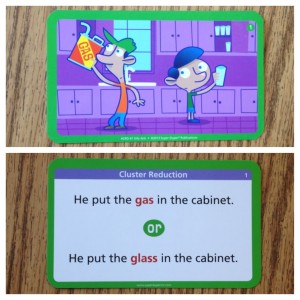 Fronting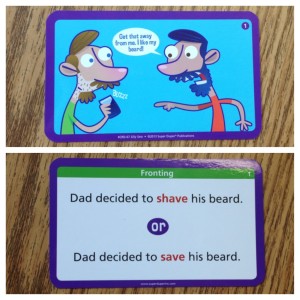 Stopping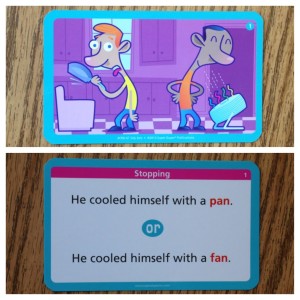 This product is one of my favorite and is very easy to use!  I typically had the student identify which sentence I said by pointing on the photo and then repeating for attempts at the sound they were working on.  For students who could produce the sound, I typically had them say the sentence and I would point to what I heard.  I also tried using it with my students with Autism.  We talked about why the incorrect sentence was wrong and how to fix it or what they thought was silly about the sentence.  We also worked on inferring as to why the characters were doing the action in the photo or what they would do next.  There are several ways to use this product.  Here are some Pros and Would-Improves:
Colorful Illustrations
Great content
A sampling of most sounds/processes
Hilarious content
Motivating
Separate card with the words used
Small, easy to transport box for traveling SLPs
Wish the included intro card had the whole sentences instead of just the words listed to allow the stimulus card to be placed on the table when the clinician is reading it.
This is a stand-alone deck (much like other fun decks) but there are no matches so most games will need to be additional to the product.
I think this would make a GREAT App!  (hint, hint!)
Overall… I love this set.  It's very motivating and can be used to target several things.  It retails for $21.95 at the
Super Duper Web Page
.  The authors have offered us the opportunity to give one away to you!  Enter below using the rafflecopter and Good Luck!
Disclosure: Kim Patterson, author, provided a copy of this material to Sublime Speech for review.  No other compensation was provided and all opinions are that of Sublime Speech.