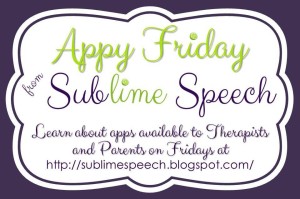 I've had a chance to check out 3 of Smarty Ears' apps this month and wanted to tell you all about them!  They cover very different needs and we use them regularly with my students.  
Expressive:
The first is Expressive, one of Smart Ears' AAC apps.  It is an entry-level, yet comprehensive AAC app available at a

very

reasonable price.  While other comprehensive AAC apps on the App market run about $220/app or up to $300/year for a subscription to the service, Expressive is offered at a reasonable $29.99!  One of the most difficult parts of deciding on the appropriate AAC app/system for a student is trialing.  Previous to iPad AAC systems, you could trial devices through various rental systems to see if it was an appropriate system for a student.  With the increased popularity of iPad-based systems, the ability to trial has decreased.  The great thing about Expressive is that you can trial a system that is much like others without the cost associated with them.  Here is a bit more about the app and its features:
This is the pre-loaded set included with the app.  You'll notice a mix of "buttons" and "folders".  Folders are denoted by the rectangle in their upper left corner.  These can be color-coordinated or organized.  The top is the speech bar where buttons go when activated.  You can construct sentences or re-say items after they are placed there by tapping it.  You can delete this by pressing the red x on the right side.
This is the greetings folder.  This is an example of a color-coordinated folder (all items are pink).  You can exit a folder by tapping the back arrow or the home button.
You can construct sentences by moving through the app's folders and buttons.  I created this fun little sentence about throwing bacon bits… which is true by the way.  When the sentence is constructed, the client can activate the entire sentence to be read as one unit by tapping anywhere on that sentence strip.
This settings toolbar is always available.  When "Lock" is activated, all editing options are hidden which is very helpful for some clients.  You can also turn on/off capitalization, speaking folders when activated, automatically erasing messages, change voice to male/female options, and increase/decrease the speed of the voice output.
This screen shows the available voices for the Expressive app.
This is an example of the simple ability to communicate a message using another folder included in the pre-loaded set.  I like the mix of nouns with verbs, adjectives, etc… Remember, AAC isn't just about requesting nouns.  It's about utilizing language in its entirety!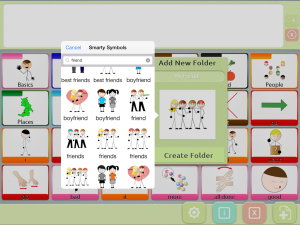 When the "Lock" button is off, this will be the bottom view.  To add a button or folder, tap the + sign and you will see the option for button/folder to be created in the place you are when you tap the +.  You can name it, choose a color, and add a photo or symbol in the searchable library.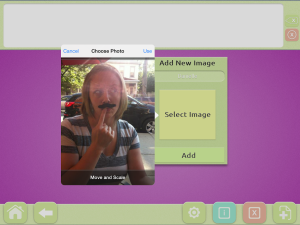 Photos from your library can be used and placed into buttons/folders easily.
Here's the view of my mustache-clad mug in a button… purple of course!


Overall, this is a wonderful and inexpensive AAC app!  Perfect for introducing AAC to students, giving a voice to a loved one that has lost their own, etc.  Here is my quick pros/improvements list:

Pros:
Good symbols – easy to understand and simple.

Improved voices in recent update.

Easy to add/delete buttons/folders.

Customizable colors for folders/buttons.

Ability to use Smarty Ears' symbol library or a photo from your Camera Roll.

Pre-programmed with an easy-to-use set of symbols.

You can "lock" the editing ability.
The voice is not immediate, though this can help with students who repeatedly hit buttons.

I haven't found an easy way to simply "edit" a button/folder's title/photo but I will follow up on this.

No ability to save a "phrase" that is created without creating a button from scratch.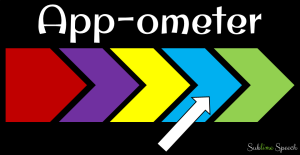 Overall a great app that I use with several of my students that utilize or may be appropriate to utilize AAC systems!  It is currently available for $29.99 in the app store: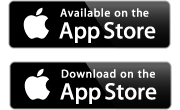 Language Empires:
The next app I want to discuss is the Language Empires app from Smarty Ears.  This comprehensive Language Skills app is perfect for targeting many language skills at varying levels.  One of my favorite features is the ability to work on several different goals with a group of up to 5 students at individualized levels!  This has been a great addition to our iTherapy!  Here's a bit more about this fun app: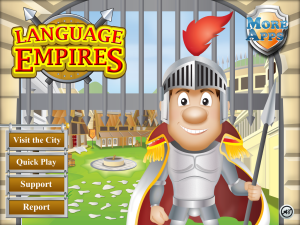 When entering the app you have several choices.  You can visit the city which allows you to create/select students and begin group work from several different "empires".  The kids love this theme!
You can also do a Quick Play which moves you straight to the empires option.  This is great if you are wanting a quick activity with a student or to look at their ability on a particular task without creating a profile, etc.
When creating profiles, students may choose a photo of themselves, an avatar, or nothing.  A name space is available.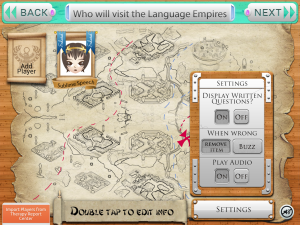 To begin, simply tap up to five students to begin.  The above settings are available as a group setting for the session, not individualized to each student.
When you have selected the students and pressed "next" you will arrive at the empires screen.  Each empire targets a different language skill and includes 1-3 levels.  Drag each player to their empire and then press "next".  An intro screen will play and then the questions will begin.  Each question is multiple choice with 2-4 choices available.  The students avatar/photo will show when it is their turn.
If correct, they will see a "Well Done" screen and then press "next" to move to the next question.   It does not automatically move on which allows for instruction between turns.  Occasionally they will win "rewards" and can learn a little about the empire they are in by reading the description of those.
All "rewards" can be found in the treasures area for each student as seen above.
Included tracking is a great part of this app.  This can be integrated into the Therapy Reporting Center as well.
Simply click "Share" and "Open in TRC" once you have installed the free TRC app. This is a great tool when you have several Smarty Ears apps.
Overall, I'm definitely a fan of this comprehensive language app!  Perfect for targeting several skills at once, including pragmatic language!  Here is my quick pros/improvements list:

Pros:
Great illustrations and photos.

Clear voice reading the prompts/questions.

Easy to add students and customize each session.

Ability to sync with the TRC app.

8 Empires included: Figurative Language, Inferencing, Predicting, Sequencing, Why, Which, How, and Vocabulary. 

Interesting and frequent "rewards".
Would love to have the answers read aloud too.
More skills/empires.  We love this app in my speech room so this is purely because we want to use it all of the time!

Overall a wonderful app that I use with several of my students working on language skills!  It is currently available for $24.99 in the app store:
When you begin, simply press "Add student +" and type in their information.  A prompt will ask if English is the child's first language before you begin.
When the student is added to your bar, they will appear on the side with their exact age listed.  Simply click "New Test" in the top right to begin an evaluation or screening.
Once you select "New test" you will choose which assessment type you are going to give.
After completion of the assessment, you will see the assessment listed next to the student.  You can always pull up this information and look at it, e-mail reports, and track progress.  It can be deleted by swiping to the left on any test which will reveal a "delete" option on that assessment.
Assessment settings can be modified under the "Setting" tab including transition audio between slides, recording single sounds (great for elicitation ability), displaying written word, and including acquisition timeline on report.  These can be changed at any time.
The stimulus items are presented like this.  Simply click a phoneme to denote that it was incorrect (red).  You can record the student's production with the record button in the upper left-hand corner, place a note about production in the note section on the right, pause (to return home, etc.) on the right and move to the next item.  If you touch the photo, the item is read for the student.
The best part of this app is the detailed report available to you.  You can look at results based on position…
Manner…
Voicing…
Words…
and Place!
Then there's the e-mail function for the report… Oh my goodness!  This report is the best!  So comprehensive and professional!  I take this report, e-mail it to myself, tweak it to fit my needs, and then pass it on to teachers, parents, etc!  This function is what made me fall in love with this app!
The only thing I would love to see added to this app is norms… then I could use it for evals too!
Now… get ready to win a copy of Language Empires:
Disclosure: Smarty Ears provided a copy of each app for review.  No other compensation was provided and all opinions are that of the author.