We've been cooking up great language skills this month with Major Speech Pathology Fun by a Minor Girl's Pizza Pizzaz Activity. It targets so many goals and is very motivating to the kiddos.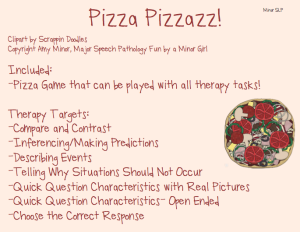 You will need to cut out the "ingredients" and pizza doughs. Spending a little extra time cutting out the ingredients will make for a more realistic looking pizza! Each student receives a pizza dough and begins to assemble it, ingredient by ingredient, until they have each ingredient on their pizza. This led to many "Italian"-ish accents from the kids.
The included targets in this 48 page, 160+ card set are:
~Compare/Contrast with realistic clipart pictures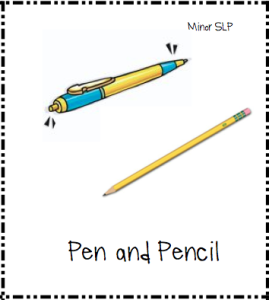 This activity is great for those students that are in the beginning stages of this skill and require picture references to be successful. It is also a great visual to have on hand if you are still in the instructional phase.
~Inferencing/Making Predictions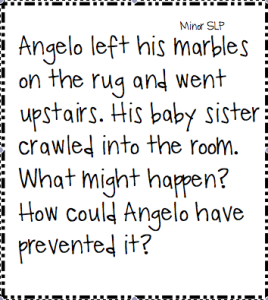 This is one of my favorite parts of this activity. It's GREAT for my kiddos working on Pragmatic Language skills and problem solving. The topics covered are realistic and some are new to students which requires even more inferencing.
~Describing Events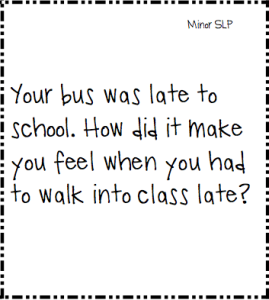 Another great one for Pragmatics, expressive language, etc. For those students working on "feelings" and point of view this is a great portion.
~Telling why situations should not occur
This activity has many situations that should not occur and provides great practice for social language. It is great for reasoning, expressive language, and more.
~Quick Question Characteristics with Realistic clipart pictures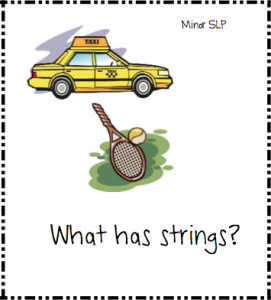 This is a great beginner task. The visuals included really help lower students to answer the "wh" questions by referring to the pictures. I like to expand the activity to asking a similar question about the picture that was not chosen (e.g. the above picture "The racquet does have strings. What does the taxi have?"
~Quick Question Characteristics – Open-ended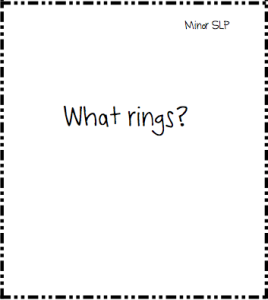 The best part of this activity is that there are multiple answers for most, if not every, card. To expand, I ask the student to tell me two things that could be answers to each question.
~ Choose the Correct Response with Multiple Choices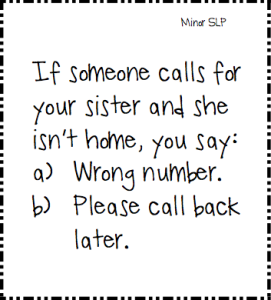 Another great beginner task for those working on Social Language skills! It's also good for taking the point of view of others by saying "How would that person feel if you said _____" by using the wrong option.
We had a great time making pizzas: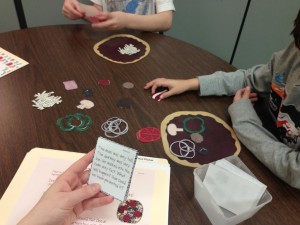 I loved the variety of targets and the flexibility of the activities. Most of them were easily expanded upon.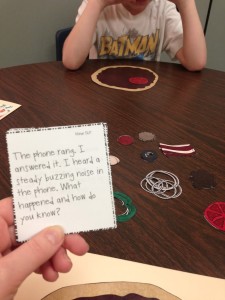 I was able to use this activity for SEVERAL groups and all ages of elementary students. Even my 4th graders had a great time making "pizza pizza".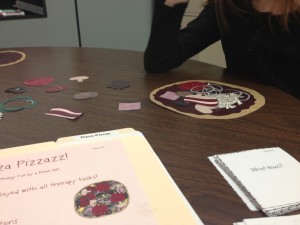 Overall, this activity is a great addition to any speech room. You will be able to target several different skills with this material. The pizza reinforcers alone can be used with any other activity/task! Head over to the item on
TeachersPayTeachers
to find out more and purchase for $7.00.
Thanks to Amy for getting TANGLED with Sublime Speech today! Such a blast!