Over the past month I've had the opportunity to use Social Skill Builder's App! Both the Full and Lite versions are compatible with iPhone, iPod touch, and iPad (iOS 4.3 or later). I had previously used the Lite version but was provided the Full version for the purpose of this review.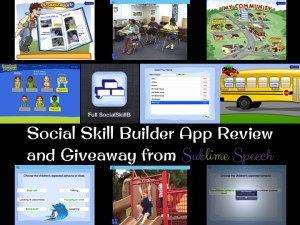 According to Social Skill Builder, this app was designed by SLPs. It utilizes real life video interactions to promote social learning for kids with Autism spectrum disorders and other learning or language deficits. The App is based on Social Skill Builder's award-winning educational software series that teach social skills in pre-school to middle and high school settings, as well as the community. The
Social Skill Builder App
is $12.99 and the
Social Skill Builder Lite
is $2.99 plus additional modules available for purchase at $1.99 each.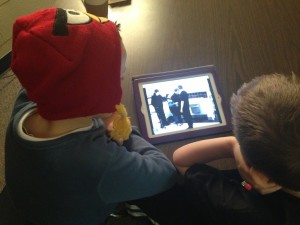 (Some of my students working with the app in a therapy setting)
The Full App features over 100 videos for the student to view and react to by answering multiple choice questions. Video scenarios are real interactions in preschool, elementary, middle and high school and community settings. Within these settings, children and young adults demonstrate common social interactions with their peers and other adults. The included modules are:
2 Modules in the title Preschool Playtime (Preschool and Playground)
4 Modules in the title My School Day (Laughing, Table Talk, Classroom, Jungle Gym)
2 Modules in the title My Community (Friend's House, Restaurant)
2 Modules in the title School Rules! (Hanging Out, Classroom Assignments)
The Social Skill Builder Lite App includes over 40 videos (one module of each title), with additional modules available for in-app purchase at $1.99 each. This allows the user to target specific areas, and save money by not purchasing modules they do not need. (e.g. if you are working with a preschooler, you would not need the modules that target middle school or high school students.)
1 Module in the title Preschool Playtime (Playground)
1 Module in the title My School Day (Laughing)
1 Module in the title My Community (Friend's House)
1 Module in the title School Rules! (Hanging Out)
Overall, I must say that we enjoy using this app. There are so many videos for students to view and work from. Typically, when working on social skills, we use verbal situations/scenarios. Using videos is a great way to promote understanding of nonverbal and situational clues. Facial expressions, tone of voice, body language, and more are not something you can include in a given verbal situation/scenario.
Here are examples of the videos: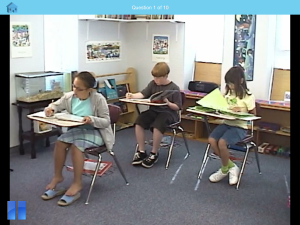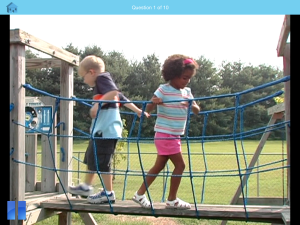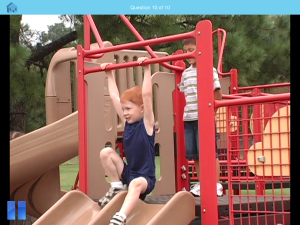 So, let's break it down, list-style:
Pros of Social Skills Builder App:
Use with several types of clients: Autism Spectrum Disorder, Asperger Syndrome, Traumatic Brain Injury, Down Syndrome, Attention Deficit Disorder, Other Learning and Language Deficits
Videos – Far exceed cartoon or verbal situations for many social skills.
Questions – Each video/photo includes wh-questions that follow. Many of these have multiple answers that must be selected to continue.
Audio – Most videos include spoken lines. Also, ALL questions and answer choices are read. This is great for non-readers.
Areas covered: Social Thinking, Language, Behavior critical to everyday social situations., Friendship/Life Skills, Understanding Emotions, Problem Solving, Critical Thinking, Perspective taking
Reinforcer – Short animated cartoons/graphics follows each correct answer set. These were my students' favorite part. They often imitated the movement of the animal/person!
Pause after Question – The app does not continue automatically after the correct/incorrect response. This allows for follow-up instruction, discussion, etc.
Seemingly unlimited amount of players that can be added.
Simple, uncomplicated platform and method of use. The screen is uncluttered and straightforward.
Uses the common terminology of "expected/unexpected behaviors".
The app states the amount correct at the end of each module for easy tracking.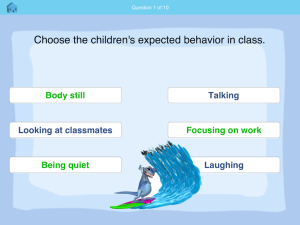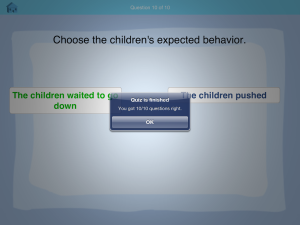 Improvements that could be made to Social Skills Builder App:
Videos – Some are a bit outdated or have elements/situations that may not apply to ALL schools.
I would like to see the ability to make a "group" from separate players. I added groups by adding a new "player" with the group name and the students took turns.
I would like to see improvements to the audio from the questions and overall app appearance.
I would like to see the ability to store the scores from sessions for students/groups. As it is now, you cannot see which modules you have completed or the scores from those. It would be VERY helpful to have this data within the app.
I found the preschool modules to be basic and only asked the child to identify the "expected" behavior. No other types of questions were included for that age.
I would like to see some more social relationship modules. This area is included in the modules but I would love some peer relationship only modules.
More modules – Although there are several modules per area, I would like to see modules added to this app for more practice. Particularly in the community and upper elementary/middle school areas.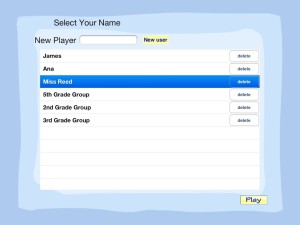 Overall, as I've said, I see a lot of value in this app. The videos, questions, targeted goals, and overall use of this app are very applicable to the therapy setting. If you have a large caseload or classroom of students working on these skills, I would recommend looking into this app to see if it is right for you. If you work with a specific age group, the Lite version may be more appropriate than the Full version.

Free demos of the Social Skill Builder App and all of the software titles are available on their

website

.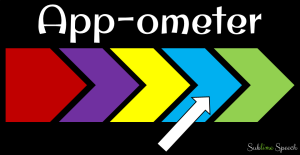 2 of you will have the opportunity to have these apps for FREE by entering the drawing below. Also up for grabs are 20% off coupons for Social Skill Builder software titles. These 7 prizes will be drawn on March 1st!