"Man, it must be such a blast to be a Speech Teacher. I mean, all you do is play games all day right?"
How often have you resisted the urge to "school" somebody who says something this misinformed? We've been having our annual observations by administrators and I'm constantly concerned that they might observe a session where I utilize a mainstream game (aka non-therapy product) to target IEP goals. You see, by the time they reach upper elementary most kids have played the "therapy games" 153 times and are positively SICK of them! And, to be honest, I'm sick of them too!
I began compiling games for therapy when I took my current position. Prior to this, I worked with nonverbal students, Early Childhood, etc. I get most of my games for SUPER cheap at thrift stores. I frequent those on Saturdays while I run errands. Some of my games were even the ones I had as a child… free is best right? I've found that sometimes teachers who have kids will have some of the games I'm on the hunt for and don't have any problem loaning/donating them to your room.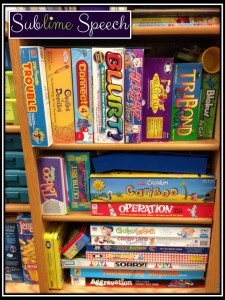 I wanted to share with you some of the games I use and what I use them to target:
Oodles of Doodles
– In this game students are given a category in which there are objects/people/events, etc. When it is their turn, they draw the items on their card on a board with dry erase markers. Their team/partner attempts to guess what they are drawing. This game targets expressive language in a different way. Instead of naming shapes, colors, sizes, function, etc. of an object… they must draw it to get the partner to accurately guess it. It also reinforces categorization skills and expressive language task of naming objects/events. Sometimes I allow them to use different color dry erase markers to reinforce color attributes. Keep in mind that you may need to adjust which cards are available to draw from because some are too difficult for younger children.
Blurt
– This game targets the expressive task of naming vocabulary and word-retrieval. This is one of my favorite games for 3rdgrade and above. Each card has a "riddle" of sorts on it which describes an object, etc. I am usually the reader and give this clue. The first kid to "blurt" the answer moves ahead. There are several ways to vary this game for differing levels. Again, keep in mind that you may need to "throw out" harder cards. There are differing levels for this game and it would be appropriate for middle/high school as well!
Headbanz
– A speech room classic. If you don't have this in your speech room please go get in your car, drive to the nearest Target/Wal-Mart and purchase it! This is my go-to for younger (well, even older kids love it) students to work on ASKING questions. I give them prompts and help them as needed. This also works on students who need work on answering questions. Students place a card on their head without looking at it and begin asking WH questions to narrow down what they might be (What color am I? Where would you find me?). The only con is that sometimes the illustration keeps kids from accurately answering certain questions (color, etc.). A simple "Yes, that's the color of it on the picture but what can it be in REAL life" helps to change that! Pro is that this is EXTREMELY motivating… they find it hilarious!
TriBond Kids/Jr.
– Occasionally we will pull out this game with my older students as it is pretty challenging. Students are given 3 things/names/places and asked what they have in common. It's great for students working on categorization and vocabulary skills but again, can be pretty difficult. Be prepared to modify the game to your needs.
Taboo Junior/For Kids
– This is one of my favorite games for therapy. It works on SO many things! If you've played the adult Taboo… this is just the junior version. Students draw a card with a word at the top that they must get their team to guess… without using the words listed below! It's very tough for expressive language kiddos to do this without prompting at first. Here are some things we've discovered Taboo works on: Synonyms, antonyms, functions, shape, size, color, location, vocabulary, and so much more! For receptive vocabulary it can also be great for identifying the word given through the clues. There is very little I have to do to adapt this for therapy. You do need to have readers but typically this game is successful with my 3rd graders and above.
Outburst Junior
– Another great one for naming things within a category. Students are given a category and race against the clock to name as many things in that category as they can. Their opponents can steal unsaid things at the end! While the most recent version of this game would be best, I have a 1989 version that is nearly 25 years old. I have to throw out some cards that are no longer relevant to my kids but other categories never change!
Cariboo
– When I found this at a thrift store for 75 cents I nearly died! It can go for so much more than that on Amazon/Ebay! I usually use it for a simple reinforcer game but it can be used for identifying colors, numbers, and shapes for Early Childhood kiddos. You can also easily adapt the cards on it with artic/language cards. Kids unlock squares to find hidden bouncy balls which are placed in a chute to open the treasure box. (Cariboo Island is a little easier to find and has a similar game structure)
Password Jr.
– This game is one I typically use with expressive language kiddos. It can also be used for artic carry-over etc. Students try to get their teammate to say the "password" by describing it in only a few words. (Baby: A small human) I also created a "Secret Word" game that is very similar to Password and will work with the decoders provided in the game (I've put it on sale for only $1 until 2/8/13!). It targets CCSS vocabulary. Pros – great for describing terms. Cons – students need to be readers unless you can whisper the word quietly enough which is surprisingly hard to do!
Jenga
/Jumbling Towers/Tumbling Towers– This is my most-requested game. I mainly use it for articulation as seen in this post. I write artic words on both sides of the blocks and when students pull that block they say the word or put it in a sentence before placing it at the top. Great for groups, speech centers, RtI, etc! You can typically get 50+ words/blocks before it falls. You can increase words said by having them say the words that are on each side of the block on each turn. I also have them say all of the words on the blocks as we put them back in the box. This gives me another 50+ words at the end of a session. Sometimes it's difficult for my lower kids to understand that they can't pull certain blocks or the whole thing will fall on the 3rd turn of the game so you may need to prompt them. I've also thought about putting CCSS vocabulary on the blocks for each grade…
Many SLPs have made companions to some of the other games I have. I use my companion Sorry Synonyms & Apologetic Antonyms with my SORRY! game. Several SLPs have cards for artic that can be used with Cariboo, Candyland, etc. But, some of my games (Trouble, Connect 4, Blokus, etc.) are for reinforcement/reward only. They are games that kids can take turns independently with while I work with the other student in the room.
So the next time somebody says, "Man, it must be such a blast to be a Speech Teacher. I mean, all you do is play games all day right?" You can say, "Actually the kids think they are playing games but they are really increasing their overall language and articulation skills. But, yes, it IS such a blast to be a Speech-Language Pathologist!"!
So, what "mainstream" games are in your speech rooms and how do you use them?
(I will pick a random comment to win 1 free item from my TpT Store!)