I know we're all looking for great ways to find therapy materials for less. One of the things that can cost the most is quality games for reinforcement and therapy activities. Games cost anywhere from $7-$100! So, I've made it my Saturday routine to peruse local Thrift stores for cheap games! Here are a few of my latest finds and how I use them in therapy: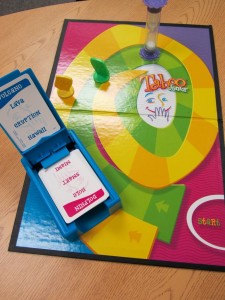 Taboo Junior: Sells for $48 as "Taboo Kids" on Amazon. Bought for $0.75 at Goodwill (was $0.99 but 25% off!) This game has proven to be an excellent language game. It works on describing different vocabulary words to others using antonyms, synonyms, details, location, function, size, shape, context, and more! It also allows me to see which words are more difficult for a student and which words are tough for entire groups/grades of students! Twist: I took a picture of the game board and loaded on the iPad and use glow draw to have students "move" their pawn which frees up table space and makes the game more mobile!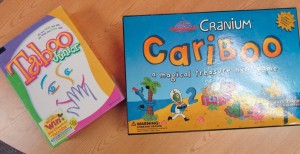 Cranium Cariboo: Sells for $100.00 on Amazon (I'm not kidding/exaggerating!) At my early childhood setting we used this game ALL the time but I never wanted to pay to buy my own. And then there it was, hidden on a shelf at Goodwill… for $0.99 and 25% off… 75 CENTS!!! This game is used purely as reinforcement for Kindergarten-2nd grade. However, if you have students working on color, shape, quantity, and letter recognition – you could target goals. I infuse language by having the students tell me what each thing is (what are airplanes/camels/etc.) before they can open the space! They LOVE searching for the bouncy balls and being the one to find the final ball that opens the treasure chest!
Outburst Junior: Sells for $40 and up on Amazon. I purchased it for $4.98 at my local DAV which was pretty steep for a thrift purchase but hey… I like to help out the vets! They had several there so I took my time to open it, make sure the pieces were there (my #1 tip for purchasing thrift store games). I haven't started using this yet but think it will be great for language students! Particularly those with category-related goals and general vocab goals.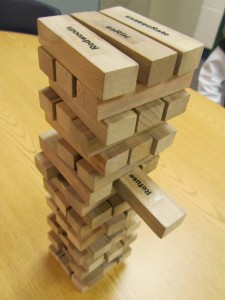 Okay, this is NOT a thrift store purchase but it's a cheaper cousin to Jenga ($15.00+) at only $5 at Target! Then, I took my artic word lists (/r/ is shown here) and printed the words on clear labels with my handy label maker. There's a word on each side of the block which comes in handy when you get the same block 2+ times in a game. There area 48 wooden blocks so there are 96 artic words in each tower! The students LOVE this game and we will often have a beat Ms. Reed contest to see if the kids can collectively beat me each week to win a prize! (They sadly have never conquered the Tumbling Tower challenge!) This is a great way to spice up therapy! I have a /r/ and a /s/ set in my room and love them! Tip: Make sure the blocks are SMOOTH not rough because the tape will not stick as well to rough blocks.
Please share your favorite therapy games below!