Brace yourself for a mind-blowing post about… containers!  We all know that our therapy materials take a lot of abuse throughout the years and containers are broken, torn, and lost.  We also are a creative bunch and make many of our own materials.  So I wanted to share a few of the containers that I use to organize my room:
Almond Containers like these are great for storing tiny pieces of anything.  They also have a flip-top lid so you can easily poor and re-store all of the bits inside.  I use them to contain things like SuperDuper chips as seen in the photo.  (Cost: Almonds you healthy people already eat!)
Jewelry hangers
like this one that I
posted
about last school year are great for storing decks of cards.  You can find them at Target and other stores and it can store up to 48 decks… (Cost: $7.00 at Target)
 It is a GREAT way to store those awesome decks from TpT SLPs as well: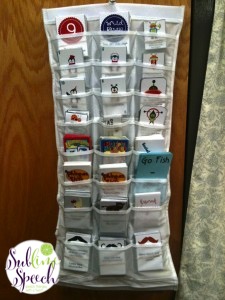 Crystal Light plastic containers with lids (the ones that contain the big powder packets) are great for storing both large and small popsicle sticks.  You can place a label on the inside of the container for quick identification of the sticks inside. (Cost: Drinking Crystal Light, or finding somebody that does)
Pringles
aren't just for snacking anymore.  Clean out and use the containers to hold stacking cups for sight words/vocab/artic words.  See
this post
for more on how to create the Artic Towers pictured here. (Cost: Eating Pringles… I get them from a teacher at my building that eats them!)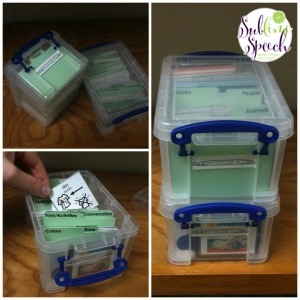 If you work with PECS symbols, you know how they can end up stuck to everything in your room but you can't manage to find one quickly if you need to for a lesson, etc.  I organize my extra PECS in "Really Useful Box"es.  These are the small ones I found at an office supply store.  The lids lock on and the boxes stack easily. (Cost: About $1 each for the small… they have several sizes).
Here are some other container ideas from Pinterest, etc.:
Coffee Containers: Use spray paint and a pretty polka dot label- great storage idea for little items.
Use
juice or sports drink bottles
to create "Search"/"Find It" bottles.  Good for language (as seen
here
) as well as artic!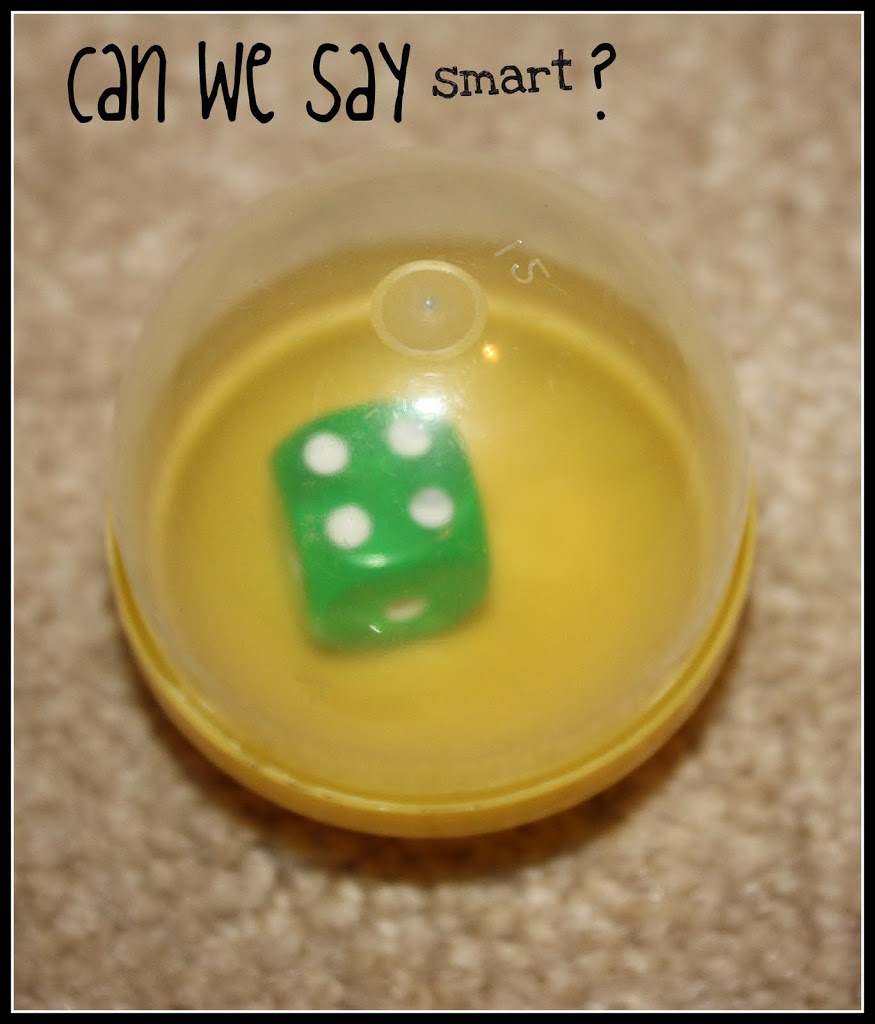 Toy Containers: After your little one snags the keychain or awful tattoo, snag the container.  This is from the toy dispenser machine you seen in stores.  (Cost: 25-50 cents)
Coffee Can: Cover with paper/label.  Can be used for storing a game as seen here on the blog or for storing other small pieces/toys in your room.
Frosting Cans: Use to organize borders!  They are also great for holding other small trinkets!
What else do you Re-cycle as storage in your therapy room and/or home?  Share your comment below!