Happy 2018!
The holidays are over and we're still in the early days of winter – sigh.  I'm sure that many of you are shivering as you read this post.  So… what are some books to use in therapy that are NOT holiday books?  What can we pull out of our Mary Poppins bag and use with our clients until the Earth tilts back towards the sun and we can start planning spring therapy?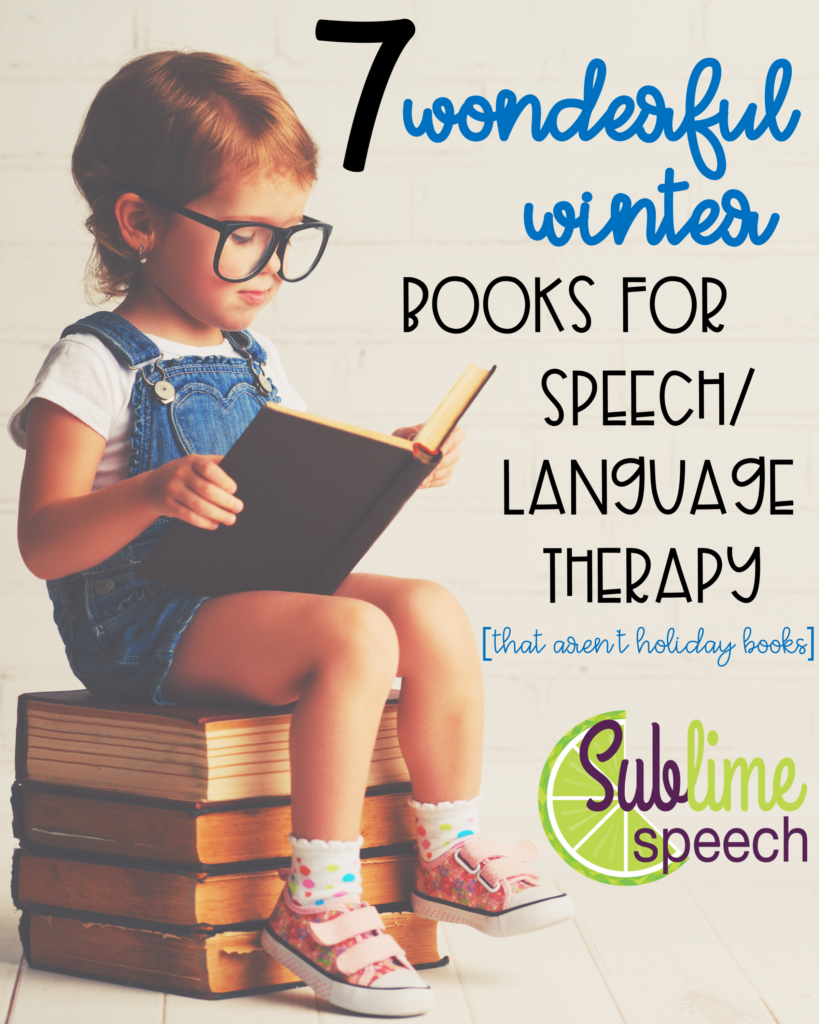 Here are 7 of my favorites:
Snowy Day by Ezra Jack Keats
This is easily one of my top books to use.  We typically use it in conjunction with snow-themed sensory bins, creating instant fake snow, or other activities. Snowy Day can be used for inferencing (e.g. What did he find sticking out of the snow to make a third track?  What will happen when he hits the snow with his stick? Where did the snowball go?), narrative retell, vocabulary (slowly, firm, heaping, deep, drag), and more.  It's a classic and easily adaptable for most elementary client ages.
There Was an Old Lady Who Swallowed Some Snow by Lucille Colandro
Of course I have to mention a "There Was an Old Lady" (when will she ever learn and does she have pica?!?) in this list.  Aside from some of the snow-based activities listed above, we use this book to work on vocabulary, answering "why" and other wh- questions, and pairs well with various TpT activities like this one from Jenn Alcorn of Crazy Speech World.
The Story of Snow by Mark Cassino with Jon Nelson, Ph.D.
If you have upper elementary clients or clients in middle/high school, take a look at this book.  It is more nonfiction with a little flair with great vocabulary and is a good way to work on comprehension of science texts in the therapy setting.  I like to use it as a transition from more "young" fiction texts to the textbooks that my students are learning from.  It's  a nice bridge between the two.  This book can be read in chunks and activities planned for each area of the book.  Also, there is a "How To Catch Your Own Snow Crystals" experiment which wouldn't work well for me in Phoenix but if you're allowed to go outside with your clients in colder climates, could be great for you as a follow-through activity.
Hibernation Station by Michelle Meadows
Hibernation is a big winter-related topic for many of our clients in their classrooms.  Here is a nice and slightly different book that looks more into the topic of hibernation.  I love that the animals are wearing pajamas and the cute illustrations.  There are problems to solve within the book and a lot of good "sound" words and animal vocabulary.
A Loud Winter's Nap by Katy Hudson
I will confess… my mom gifted this book to our speech/language room this year, it wasn't my find.  The illustrations alone are hilarious and useful for therapy.  I love the "sound" and vocabulary words included, the emotions discussed, figuring out just why "tortoises don't like winter", and the overall message of this fun little book.  A quick read and easy to pair with animal, snow, or winter activities.
Polar Bear, Polar Bear, What Do You Hear? by Bill Martin Jr/Eric Carle
Of course I have to mention this gem.  If you work with younger clients, including pre-K and even EI, this book is truly wonderful.  It is even better if you've used Brown Bear, Brown Bear, What do You See? with the client before.  There are oodles and oodles of TpT and other materials to pair with this book – no need to re-invent the wheel.
Bear Snores On by Karma Wilson
The wonderful SLP that I have the privilege of sharing a caseload with this year introduced me to Bear Snores On. This book pairs wonderful illustrations with descriptive vocabulary and rhyming words that make this book a sing-song read.  I love to pair this book with a book companion from Shannon Werbeckes of Speechy Musings and mix and match the skills depending on my groups.
There are, of course, many other wonderful winter books to use in therapy, please share your favorites below!  I can't say how much the use of literature has improved my therapy provision and I highly recommend the use of books in therapy.  Happy winter and have a wonderful 2018!