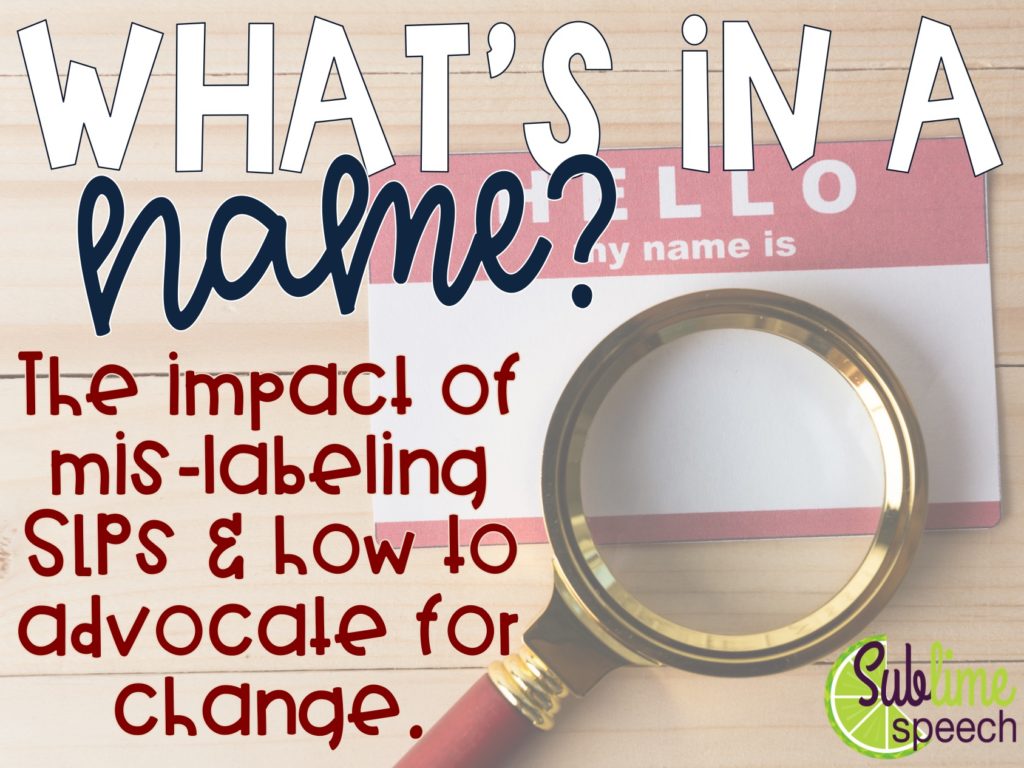 Speech Teacher.
Speech Lady.
Speech Therapist.
Hey you…
We get called many things when working in the field of Speech-Language Pathology. I've heard it all. My absolute favorite was being called the "Blonde Speech Lady" by an administrator… an ADMINISTRATOR! I will never forget that moment. Not only did she not know my name (common in some districts as SLPs are more itinerant than ever before) but she did not know my job title. I'm pretty sure she would have winced if I would have returned the favor with "Where's that blonde school leader lady?".
The subject of what we are called in the medical field typically yields two results – Speech Therapist or Speech-Language Pathologist. Not too terribly off. However, simply mention our title in various School SLP circles and you will hear everything under the sun. You will also see SLPs stating everything from "I just don't care what they call me" to "I will correct people if they state I'm anything other than a Speech-Language Pathologist". People feel very passionately. Because of the reasons stated below, I feel that we should work to be referred to by our true job title… or at least as close as possible.
Know Your SLP History
Working on elocution was commonplace throughout history. But in 1918, a special interest group comprised of speech correctionists (originally schoolteachers) formed a subgroup of the NEA, calling itself the National Society for the Study and Correction of Speech Disorders. In 1922, Dr. Sara Mae Stinchfield Hawk, who was one of the 25 people who founded what we now call ASHA, received the first Ph.D. in America in the field of Speech-Pathology from the University of Wisconsin.  In 1926 another group, the American Academy of Speech Correction, formed and approved their constitution "to raise existing standards of practice among workers in the field of speech correction".  Since the establishment of the American Academy of Speech Correction, the association has changed its name 4 times; 1927–American Society for the Study of Disorders of Speech; 1934–American Speech Correction Association; 1947–American Speech and Hearing Association; and 1978–American Speech-Language-Hearing Association.  During the early 1900s, many books and procedures for the development and therapy of speech were published with an increased focus on science. The end of WWII represented the beginning of a change for speech pathology in America for many reasons, including an increased incidence of aphasia due to war injuries.  Much of the research and theorizing in child development in this post war period focused on language content of children's language development.  Knowing your SLP history will help you to further understand how far the field has come in such a short period of time and why each part of the term "Speech-Language Pathology" is so crucial to what we do.
(For a detailed history, check out the references for this section including this great page, the History of ASHA, or this Leader Article)
Because ASHA Says So
In 1976, ASHA released the following relevant paper instructing us to use the official title of "Speech-Language Pathologist":
Official Title: Speech-Language Pathologist

Legislative Council

WHEREAS, language is the major means of human communication, and

WHEREAS, disorders of language constitute a significant communication handicap, and

WHEREAS, speech-language pathologists are responsible for the diagnosis, prognosis, prescription, and remediation of language disorders, and

WHEREAS, this should be immediately and prominently discernible to other specialists and the general public, therefore

LC 10-76 RESOLVED, That the American Speech-Language-Hearing Association endorses the official title speech-language pathologist (SLP) for those qualified individuals who diagnose, prognose, prescribe for and/or remediate speech and/or language disorders.

(Executive Board)
Respect Your Education
While many people working within schools have achieved a master's degree or PhD, all SLPs MUST have at least a master's degree. I have also come to discover that not all master's degrees are alike.  For example, at my alma mater, you can receive a Master of Arts in Teaching and Learning with a minimum of 33 credit hours.  At the same university, a Master of Science, Communication Sciences and Disorders, Speech-Language Pathology requires a minimum of minimum of 58 credit hours. That's nearly double!  Part of those credit hours include practicum hours which are typically not included in other master's programs.  It is important to understand that this requirement is what makes you an expert in communication for the entire lifespan.  While you may work in one setting, your education is equal to SLPs working across settings.  Never sell yourself short.
Educate Your Clients
If I told you that a 6 year-old could say "Speech-Language Pathologist" would you think I was pulling your leg?  Well, it doesn't sound perfect, but they sure can! While I care if my colleagues understand my title, I care more that my students understand what I do and why they are in my office.  So, for the first time last year, I began educating my students about my job title. They started the year by calling me the Speech Teacher and ended it with "SLP" or "Speech Papougagist" (close enough, right?). I didn't do this just to give myself a pat on the back, I did it to show them what it would take to have a job like mine. I work in an area with extremely low SES (90%+ of free/reduced lunch). Most of my students are from working-class families with no college education. They may be the first in their families to attend college. And now, after our SLP discussions, they understand that to do my job they will need to finish "regular" college and then go for 2 more "extra" years to get a master's degree. This is a conversation that many of my students may have never had. And when you are working with students in this population, or any population, it is important for them to understand these concepts of college and post-secondary education. Plus, it's incredible when your 2nd grade student turns to their teacher and says, "She isn't my speech teacher, she's my SLP!".  Cue melting heart!
Minimize Confusion & Increase Clarity
In my district, we have SLPs, SLPAs, and SLTs. This can be pretty confusing to parents, teachers, and students. While the level of care provided to students should be equal, there are differences between these acronyms which are important to understand.
Speech-Language Pathologists (SLPs) are autonomous professionals, not requiring supervision, who provide clinical services (e.g., assessment, diagnosis, planning, and treatment), prevention, and advocacy, as well as education, administration, and research in the areas of communication (typical and atypical) and swallowing (ASHA, 2007) in a variety of clinical settings. ASHA-certified SLPs may work in public or private schools, early intervention settings, medical settings (e.g., hospitals), private practice, universities and university clinics, community, state, and federal agencies or institutions, correctional facilities, research institutions, or corporate and industrial settings (ASHA 2007).
Speech-language technicians or Speech-language therapists (SLTs) are professions found in some states/countries.  These may be autonomous professionals, not requiring supervision, who provide clinical services (e.g., assessment, planning, and treatment), typically in a

school setting

. SLTs may be restricted to working in a school setting. Due to the limited scope of practice,

SLTs typically focus on educationally-based services

which include assessment of communication disorders, participation in the Evaluation Team, IEP team, and providing intervention for communication disorders. SLTs are eligible for certification in some states, but not all. SLTs are not eligible for certification by the American Speech-Language-Hearing Association.
Speech-Language Pathology Assistants (SLPAs) are NOT autonomous practitioners and must practice under the supervision of a master's level, licensed, SLP. They are eligible to work in any clinical setting (hospitals, schools, early intervention, etc.) with proper supervision.
Educate Colleagues and Parents
I'm not suggesting that you sound outright braggy in how you handle the mis-labeling by colleagues and parents but rather take a proactive approach.  Some examples of this include:
Include your full title in your e-mail signature.
Introduce yourself as the "Speech-Language Pathologist", even in IEP meetings.
Refer to therapy sessions as Speech/Language therapy session instead of just "Speech"
Take advantage of BHSM to further educate families and colleagues about our field and job.
Sign documents and paperwork with your full credentials.
If you correct anybody, let it be your administrators. They will set an example for how you are labeled.
– – – – – – – – – – – – – –
While it may seem uncomfortable to insist on being called by our true title of Speech-Language Pathologist, it is important for so many reasons, including the ones above. As many SLPs fight for manageable caseloads/workloads, adequate compensation, and respect, we must start with education and clarification of our scope, role, and knowledge. It may seem trivial to some, but can have a larger impact than you may imagine. As you begin a new school year, I challenge you to adopt some of the ideas included here and work to educate your clients and families as well as your colleagues.