It's already time to get organized for next school year.  This post is designed to help those who have purchased the Editable SLP Organizer to get the most out of their purchase!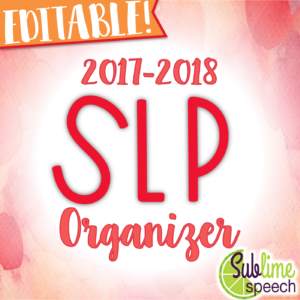 This product is updated yearly and can either be used as a PDF or as an Editable PowerPoint file.  It includes:
*2 design versions of covers
*SLP/SLPA Covers
*1 blank organizer cover/divider page for customization
*7 dividers for organizing pages and addition of your own pages
*1 blank divider for customization
*July through June calendars with plenty of room for adding meetings, etc. Also spaces for notes to be kept handy.
*Blank Calendar page for customization
*2017-2018 year at a glance calendar
*2018-2019 year at a glance calendar
*3 styles of To-Do List pages
*Meeting Notes Page
*Schedule template with enough room for scheduling 21 sessions/day
*Weekly therapy plan page to note materials needed and activities planned.
*One-Page Yearly Student Attendance Log with weekends marked.
*Parent communication Log
*Progress chart template
*Therapy Notes page
*Caseload record page
*Year at a Glance IEP/Eval Dates page
*IEP at a Glance page for classroom teachers
*IEP Meeting Notes page
*Monthly Evaluation Dates pages for each month
*CEU Course Log
*CEU Notes page
*Blank table page for customization
Here's a video to help you edit and use this document:
Enjoy!