Motivating students is a very important skill for SLPs and therapists.  When students are motivated, they work hard and enjoy their time in therapy.  Progress occurs more quickly and is long-lasting.  Let's be honest, boring isn't beneficial (for most students) and finding an easy and engaging way to motivate students helps!  As a young SLP I spent a lot of time and money motivating my students.  Did it work?  Yes.  Was it necessary and maintainable? Not necessarily.  As I have progressed in my career, I have learned that motivating students can be extremely simple and cheap!  Here are some of my favorite ways to motivate students in therapy.
Easy speech/language decoration activities:
My students LOVE to decorate my room for the seasons.  I have found a very easy way to make this a speech/language activity.  I simply find a line-art image(s) to print out large enough (1/2-full sheet) to be written on and decorated.  For my language groups we encorporate a book or activity into the decorating.  We may write vocab words, answers, etc. onto the graphics.  For articulation we write season-themed words onto the decorations and practice them before decorating.  The decorating is only 3-5 minutes of the session because we use paint daubers to decorate.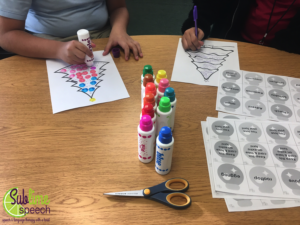 When completed, I cut them out an put them up on my cabinet.  They love this activity and will come in to find their decoration in future sessions – I may review the items on the decoration, have them say their words again, etc.  Easy!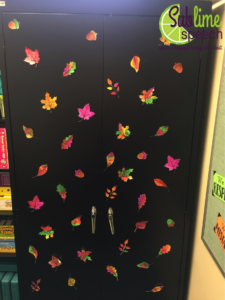 Finger Lights:
We all know that card decks get stale very quickly.  We spice them up with these cheap finger lights from the party favor section of Target.  (You can find them elsewhere too)  I give each student one light and they use them to point to things on the card/book, point to their answer, etc.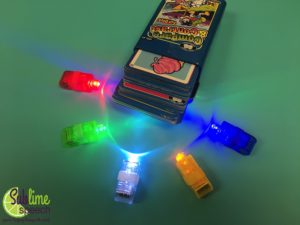 I have really seen an increase in participation from students during their turn as well as during other students' turns.  They don't need another motivator during the session when these beauts are involved.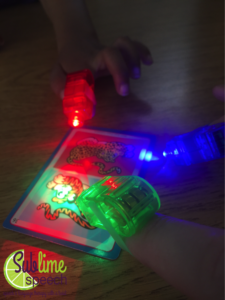 Spinners and Tallies:
Never underestimate the simplicity of tally points.  I simply printed off this chart for my groups of students and place it into a dry erase sleeve.  After their turn, they get to spin (eliminates the pesky dice roll which takes too long) and add the points to their total.  We often have a 2-minute drill at the end where we have the first person to accurately answer getting a point and go until the session is over.  Who knew that it just takes tallies?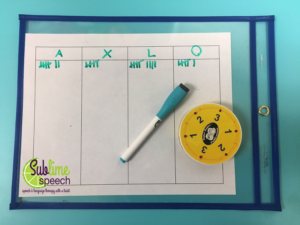 Friendly Competition:
In my therapy room we use several apps and articulation activities in small groups or quick individual sessions.  I selected a few of those to display record-holders on our board.  We utilize Listen Close & Missing Letter apps from Erik X. Raj, Cup Stack Challenge (how many cups they can stack from our Articulation Towers), and a 5-minute challenge.  During the 5-minute challenge a student says their words independently and we count how many correct productions are made in 5 minutes.  They are very motivated to get their names onto the board and keep them there.  And by doing this, they are motivated to say as many accurate productions of their words in short sessions!  Win-Win!
Dauber Sheets:
There are a TON of these sheets available on TpT.  General reinforcers, 100 challenge pages, etc. are great for keeping students focused and motivated.  On articulation sheets I either have them say their words as they dot them or I have them keep track of accuracy with two colors of daubers for correct and incorrect responses.  They love seeing how many they can finish in a session and when they are finished I let them hang them up for a week.
(Pictured activity from Busy Bee Speech found here)
Erasers:
Have you seen those cheap $1 packs of erasers at Target?  Grab a few packs for therapy.  We use them in many ways but one that we use a lot is as a general reinforcer.  Simply have students spin/roll after a turn and collect that many erasers as "points".  I suggest a small bowl or container to put them in or they will likely be played with by students.  Other uses include coverings for 100 challenges if you don't want to paint dot them, bingo chips, etc.  These can also be found on sites like Oriental Trading and Amazon.  EASY!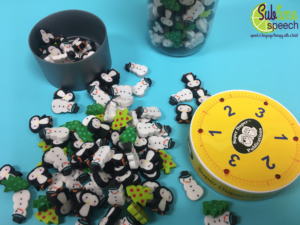 Motivating doesn't have to be difficult or expensive.  It is not necessary to play games as a reinforcer.  Something simple like the motivators above will be easy to implement and will increase the motivation of your students.
HOW DO YOU MOTIVATE YOUR STUDENTS?