It's that magical time of the year for basketball fans… March Madness.  In the spirit of the tournament, some of my blogger friends have decided to do March Madness with an SLP twist!  While you may not know a layup from a free throw, you DO know a tongue depressor from an SLP Blog and that is all the knowledge you'll need to compete in this incredible contest!
Each round, you can enter to win a product from an SLP Blogger as well as a $50 Gift Card!  Plus, each round's entry goes toward the Grand Prize drawing for one of three gift cards valued at up to $200 sponsored by YappGuru.  PLUS, if you refer a friend to participate, and they cite your e-mail in their entry, you will get an extra entry to both that round's drawing as well as the grand prize drawing!  You can earn up to 25 extra referral entries per round – 150 total!  Voting closes at 11:59PM EST on the final day of each round's games (in the "real" tournament) noted on the graphic below.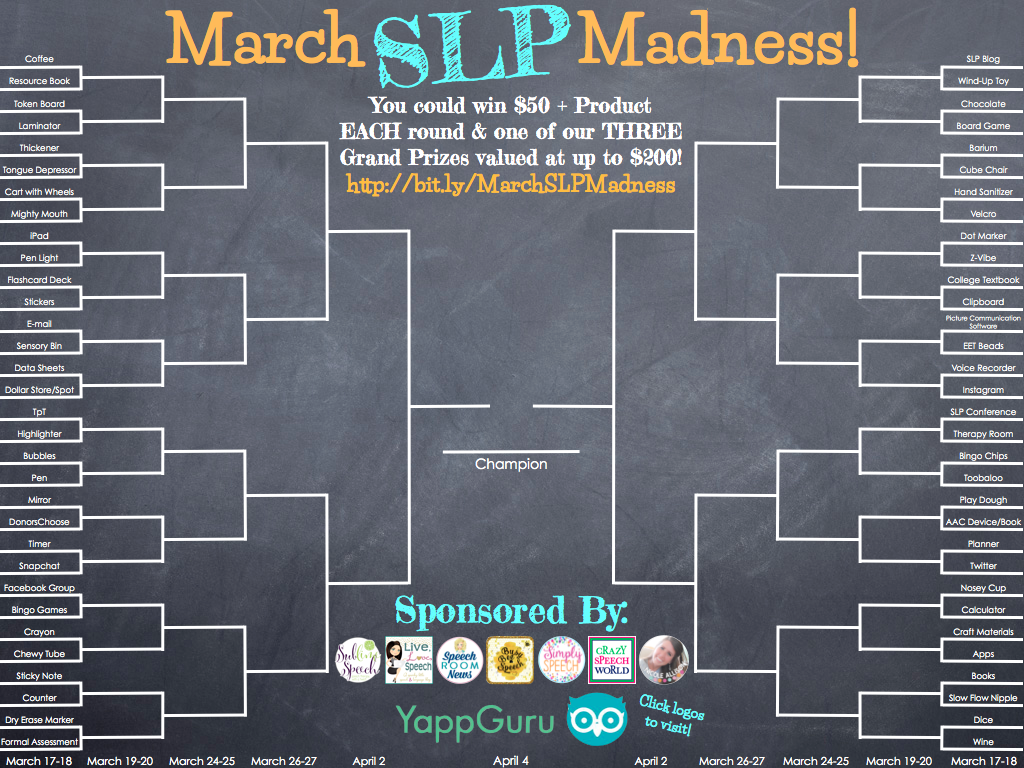 Here is the full bracket if you'd like to download/print (See below for updated PDF brackets)! If you're ready for some fun and hilarity, follow this link to vote (Voting has ended for round 1-5 – vote for round 6 here)!
The 1st round is sponsored by me and voting ends at 11:59 PM EST on 3/18/16!  If your entry is drawn, you will win your choice of product from my TpT Store as well as $50 Gift Card to really get you through this week after DST… your choice of Starbucks/Dunkin Donuts!
Other March SLP Madness Sponsors include: YappGuru, Live Love Speech, Speech Room News, Allison's Speech Peeps, Busy Bee Speech, Crazy Speech World, & Simply Speech!  Stop by their sites to enter each round!
Have Fun and thanks for stopping by!  Happy St. Patrick's Day – I hope it's a lucky day for you!