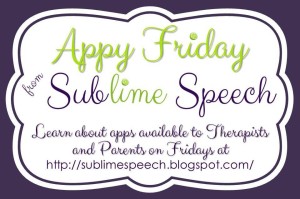 Smarty Ears
 has recently asked me to take a look through one of their apps – 
iName It
.  It is described as a an app designed to help individuals with difficulty recalling the names of common items found in the home.  Here's more…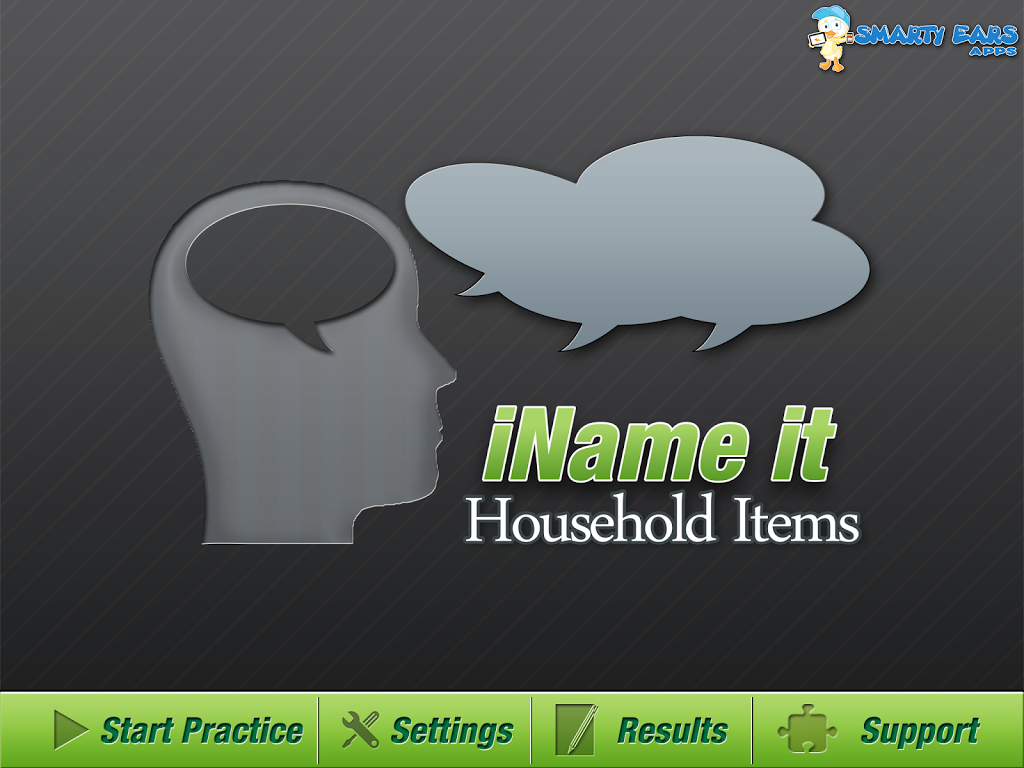 Once the app is open, this is the screen you begin with.  The simple design of this app makes it perfect for use with all ages.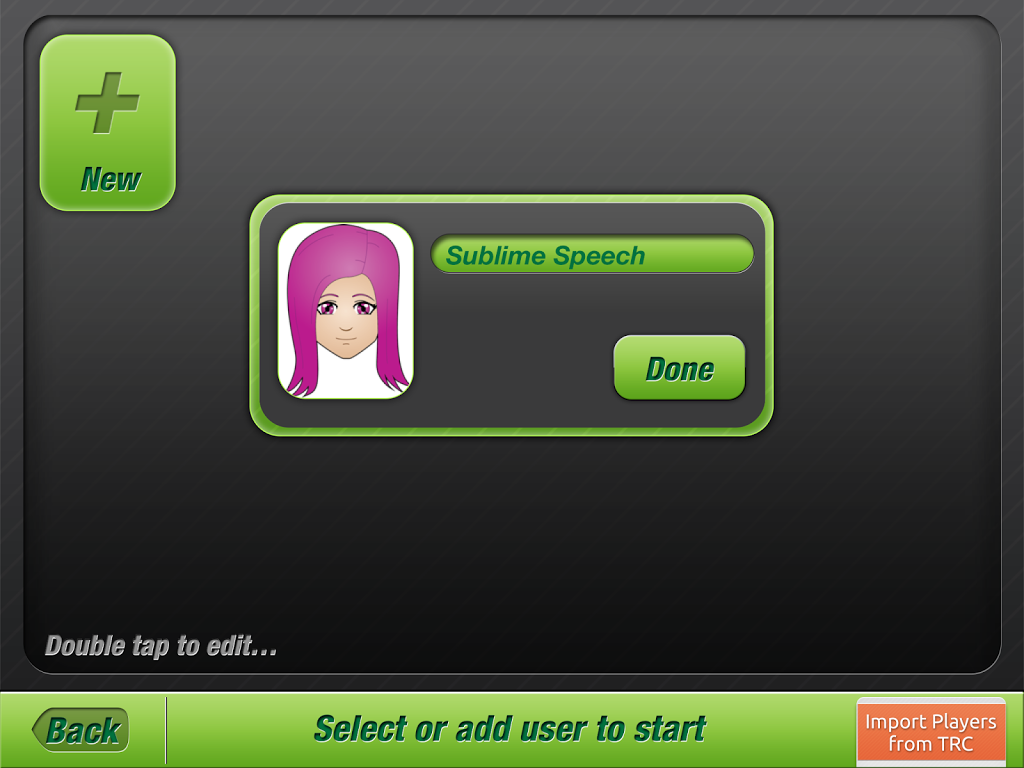 This app is a single-player app.  You access players through the "Start Practice" option on the home screen.  Choose a player and begin.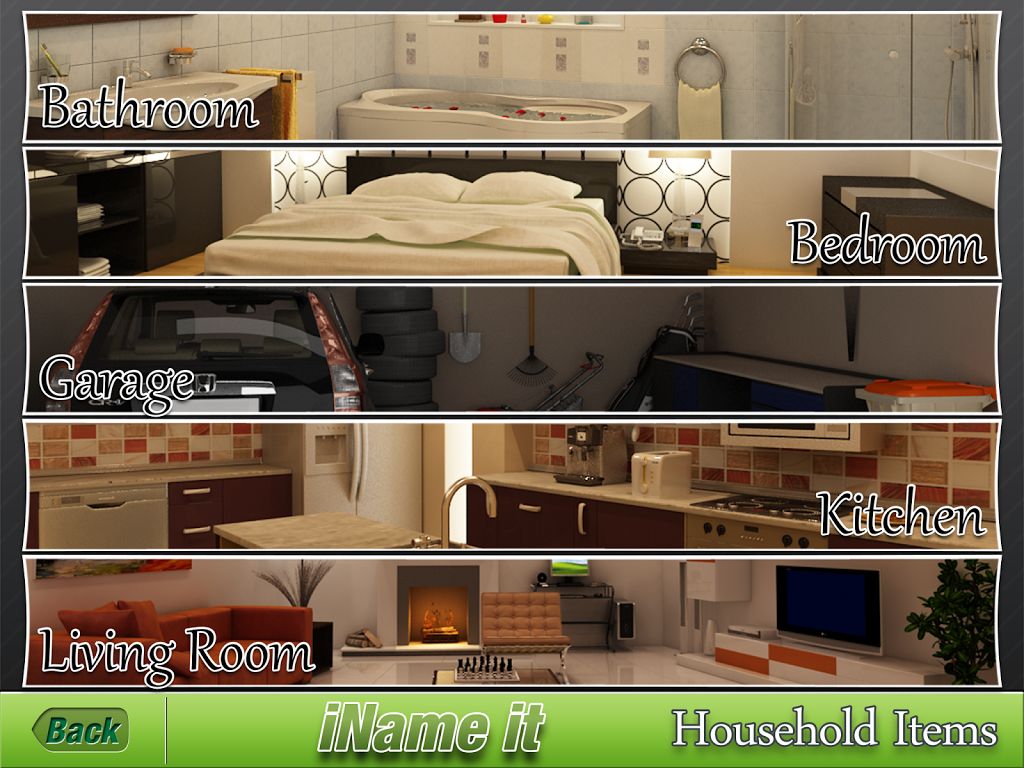 You then come to the choice of five visual scenes.  Each scene comes with ten vocabulary words and each vocabulary word includes five levels of cueing.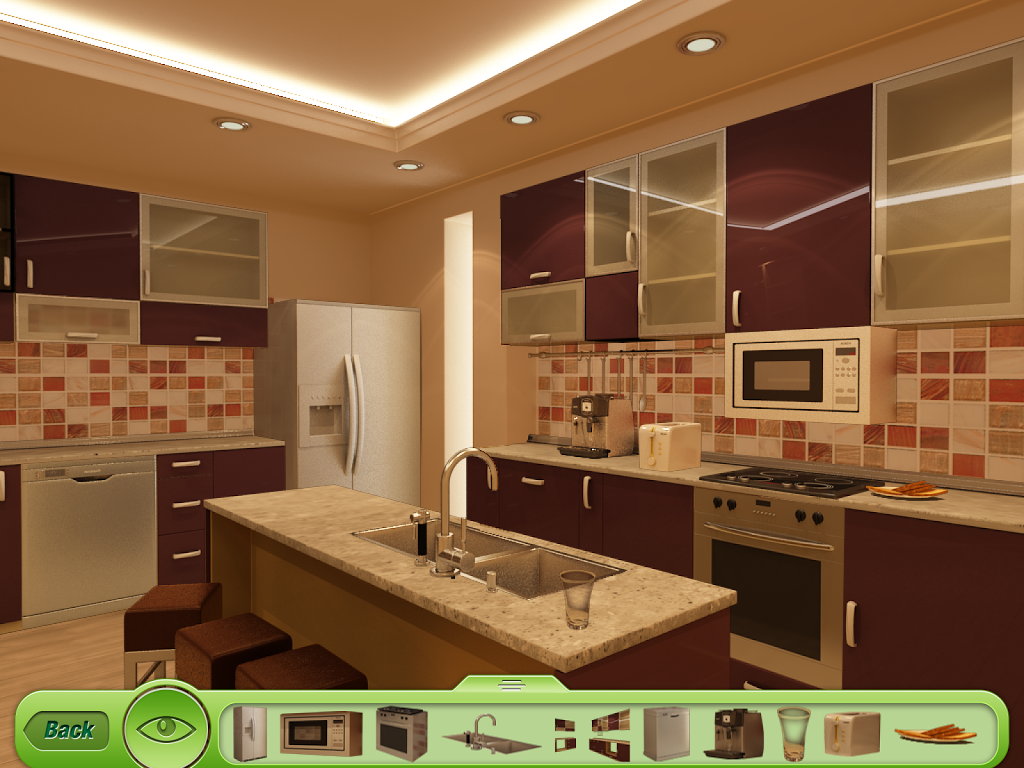 Once in the scene, all of the items to be found are shown at the bottom.  By pressing the eye icon, only those items remain in color.  This option can be toggled at any point.
When an item has been tapped, it will remain in color while all others are greyed out.  You can have the client name the item at this point.  If correct, simply tap the check mark and this will be recorded as a correct response.  If not, click the magnifying glass to move to cues.
At any point in the cueing, you can mark that they got the item correct.  Initially, the item is only magnified (L).  The pencil shows the word completion cue (R).
The book shows semantic cue (L) and the square shows sentence completion (R).
 The speech bubble shows phonemic cue (L) and the ABC cue is the written cue (R).
After all cues have been given, a final Got It/Missed will be shown for data tracking.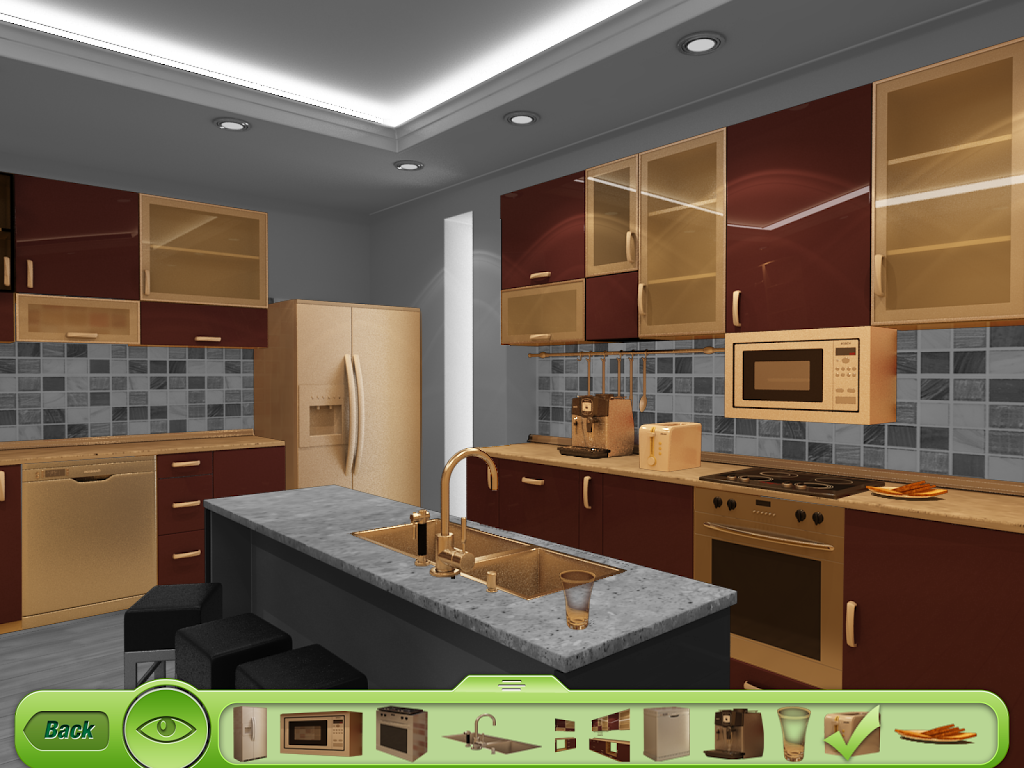 At the bottom you will see the green check or red X on the items completed.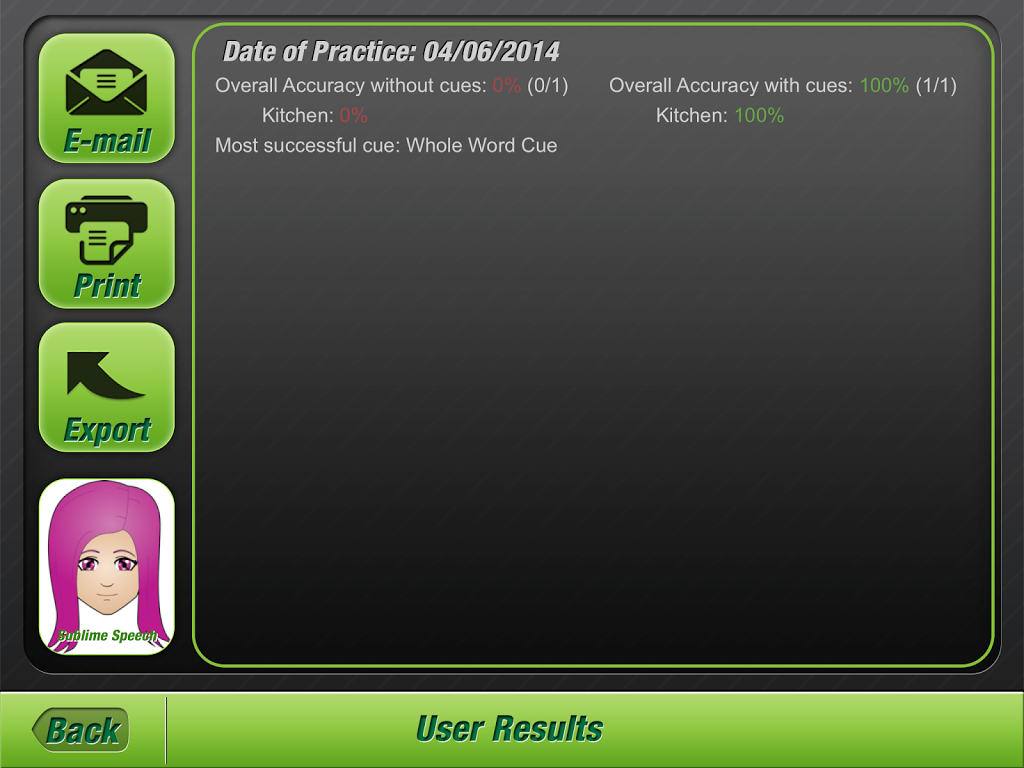 After sessions are completed results are available in the Results section of the app.  These are broken down by cues and visual scenes.  It also gives you which cue is most successful which is great information for families and caregivers.
 If you'd like to see more about this app, check out Smarty Ears' video below:
Overall this is a useful and straightforward app for all ages, particularly the adult population and any clients who have been diagnosed with Aphasia.  Here is my quick pros/improvements list:
Nice, realistic, stimulus visual scenes.

Clear voice on stimulus items.

Data collection for each client is included!
Built-in compatibility with Therapy Report Center helps with report writing and progress monitoring.
Great app for use with adult clients.
Good price for such a comprehensive app.
I would like to be able to use this with multiple clients at one time.  At this time only one client can be selected at a time.
It would be great to be able to record clients in the app to assess sentence creation and other expressive tasks.
I would like the got it/missed displayed with all cues so you can track accuracy with each cue type.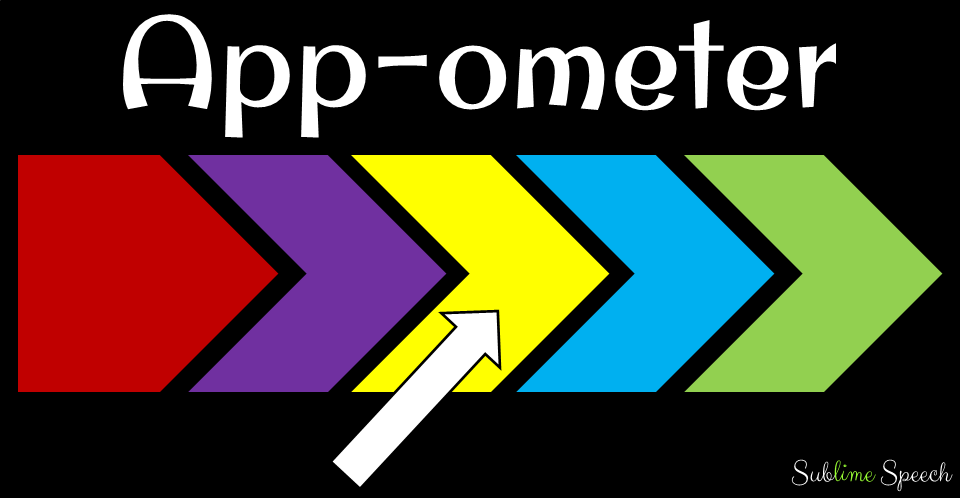 (Reg Ed children/schools)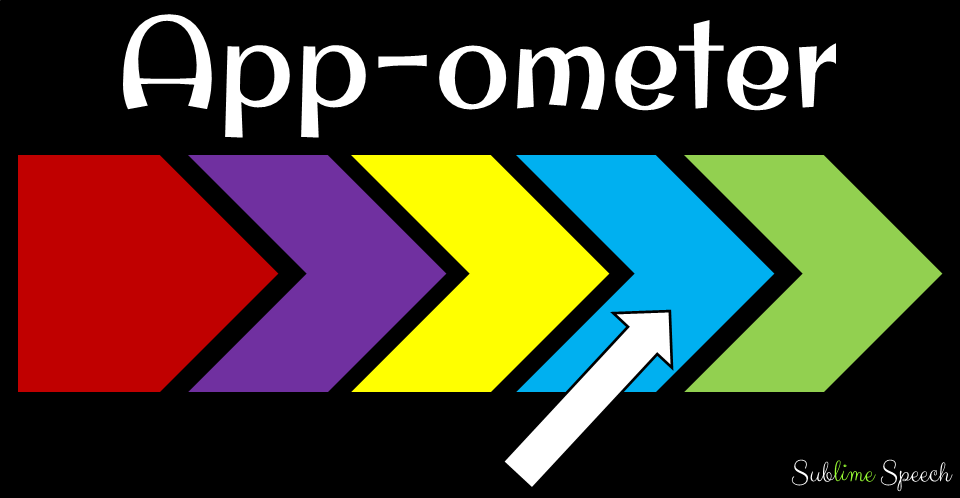 (adults/rehab or severe population children/teen)
Overall a comprehensive and useful app!  It is currently available for only $14.99:

We're hosting a giveaway of this app!  Check it out and enter below!
Disclosure: Smarty Ears provided a copy of this app for review.  No other compensation was provided and all opinions are that of the author.