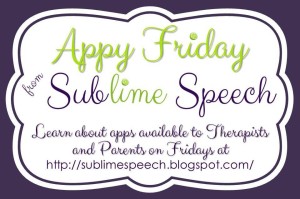 Everyday Speech
 has just released their first app – Let's Be Social.  It is described as an app that targets the pragmatic skills of Recognizing Emotions, Solving Problems, Forming Friendships, and Predicting Outcomes.  Here's more…
Once the app is open, this is the screen you begin with.  The simple design of this app makes it perfect for use with students of all ages.  Settings are available in the top left of the main screen.
 After selecting "Start a Lesson" you are taken to the lessons page shown here.  You can select a pre-stored lesson from the various included areas.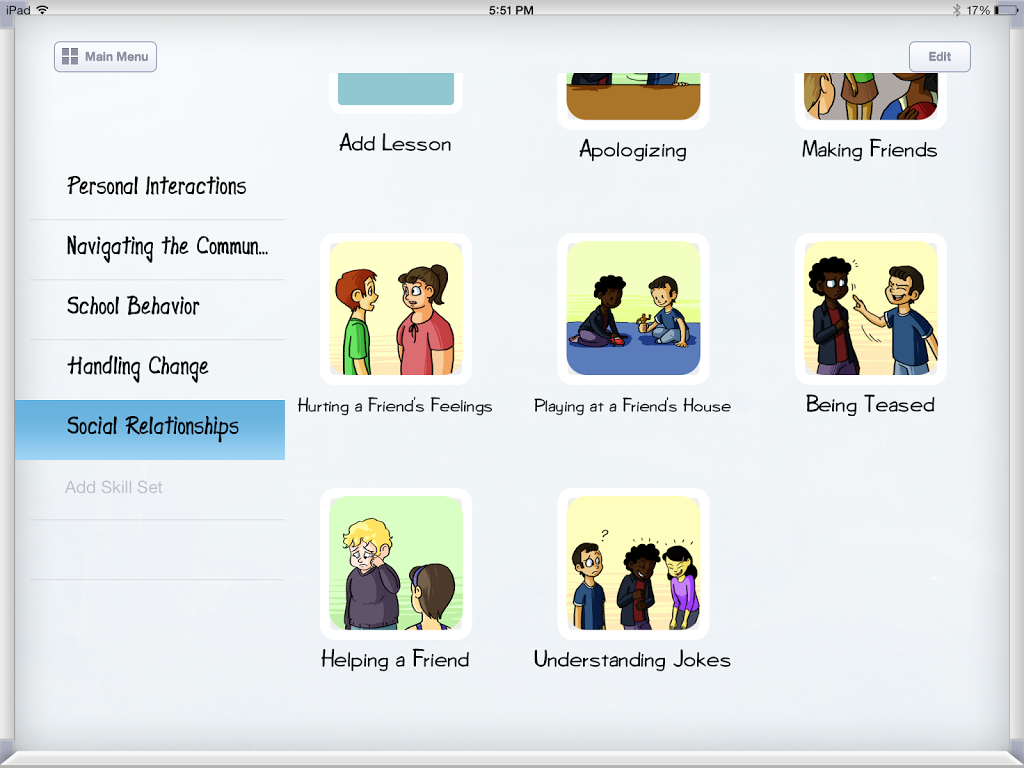 Here's where this app gets awesome… you can
TOTALLY
customize it!  I'm not sure if there is a limit to how much you can add to this app but I absolutely love a customizable app!  If you want to create an entirely new area/category, simply tap on "Add Skill Set" and type the skill set title here.
Whether you place it in a new skill set or in an existing one, creating new stories is VERY easy!  Simply click on "Add Lesson" and you will see this screen.  Add a lesson title and story.  You can also add a photo to be shown next to the story.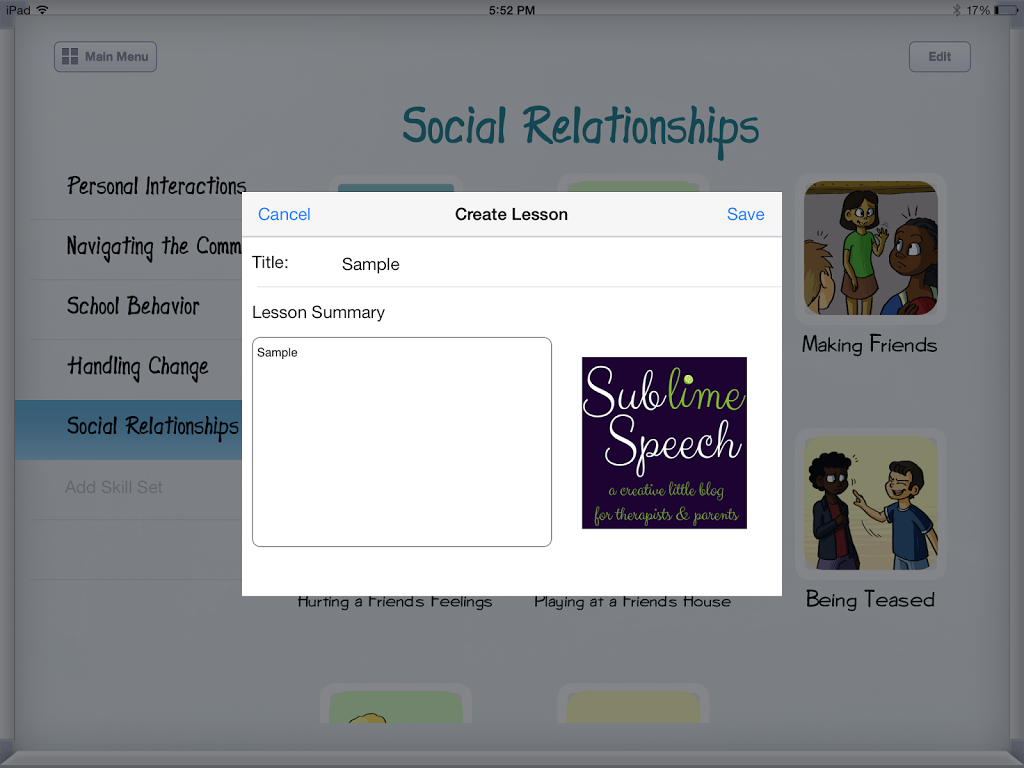 Then you can create custom questions to accompany the lesson.  You add a photo (optional) and question text.  Then you supply the multiple choice answers (up to 3) and select which one is correct.
Once you have finished the lesson, it will appear in the category that you created it in.  It can always be deleted if you want to remove it!
Now, here's what the lessons look like.  You begin the lesson and read through the summary.  You can also choose to do the questions without this summary but I find it to be best to read through the story.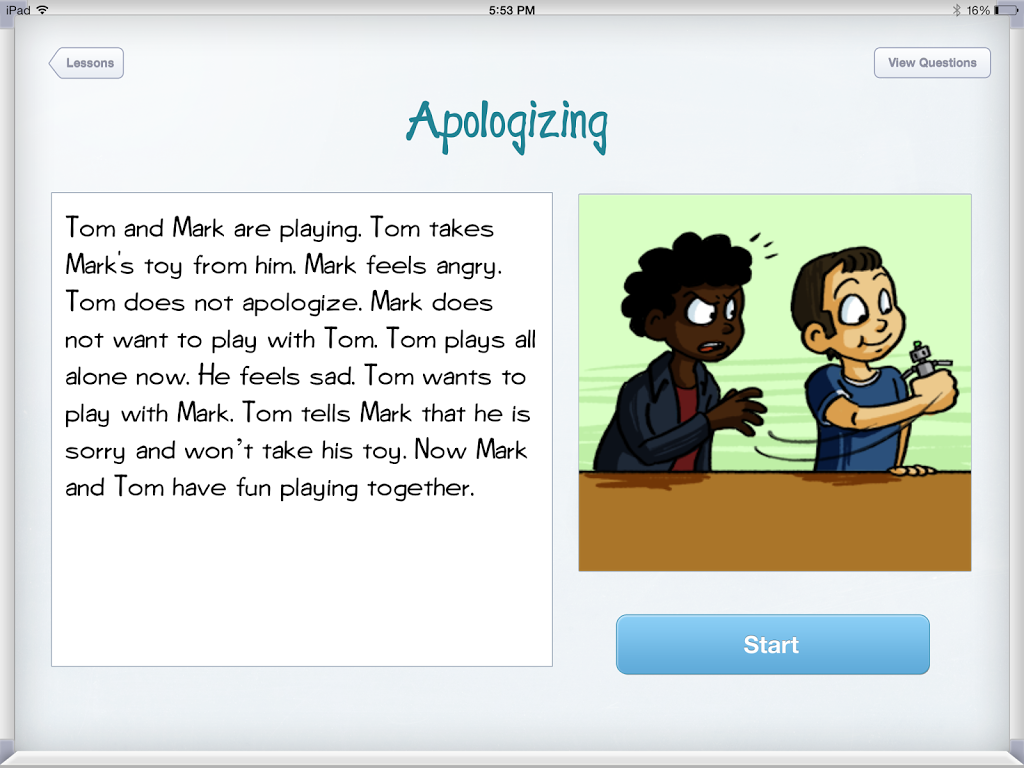 Then click "start" to be taken to the questions.  Questions are multiple choice and have a small bit of text and an illustration accompanying.  After the student selects their answer, they are shown this screen which says if the answer was right or wrong.  You can review the question and choose again if they are wrong or if you would like to discuss the question further.
 When all questions have been answered, the summary screen is shown again which is great as review or discussion time.  Then the screen showing stars for each correct question is shown.
Overall this is a very nice and customizable app for use with all ages.  Here is my quick pros/improvements list:
Nice, colorful, stimulus illustrations.

Customizable skill sets and stories.  This means an 

infinite

 number of 

possibilities

.  You can use this for social stories, to accompany any social language curriculum you use, etc.

Simple backgrounds and illustrations limit distractions.
The included skills are those which are encountered often within the school and community.
Good price for such a customizable app.
Data tracking to some extent – stars shown at the end for correct answers.
I would like to be able to keep data for specific students stored in the app… but it's pretty easy to jot down.
I would like some middle-level stories/situations added as the developers work on improvements.  I find the current stories and questions to be great for my K-3 crowd and severe students.  My 4th graders found it to be a good review but pretty easy.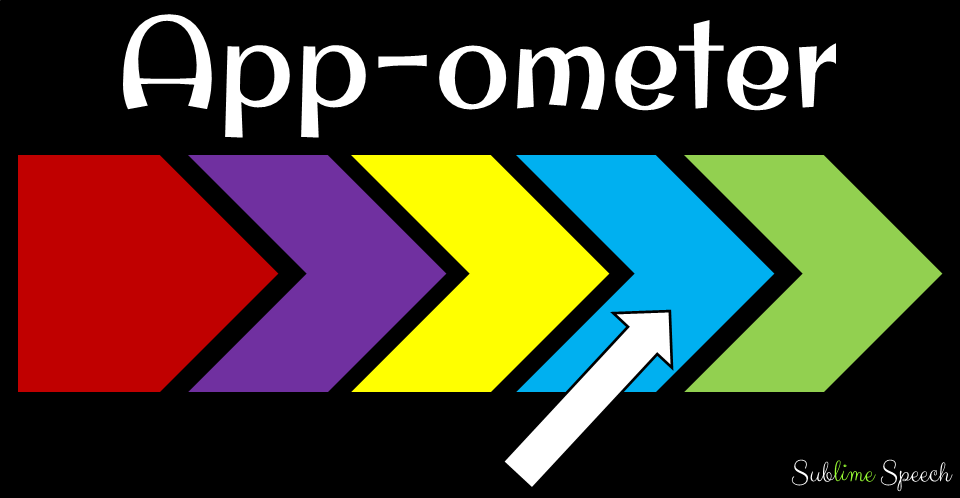 Overall a great, thorough, and customizable new app!  It is currently available for only $14.99:

But, we're hosting a SPECTACULAR giveaway for 3 copies of "Let's Be Social"
and
 my
Alice in Social Wonderland
social skills material from TpT!  Enter below!
Disclosure: Everyday Speech provided a copy of this app for review.  No other compensation was provided and all opinions are that of the author.