Welcome to the
final
 stop in the amazing Spring Into Speech Blog Hop!  I hope you've had fun and found some
amazing
 resources from our awesome blogger participants!  If this is your first stop, click the flower below to be taken back to the first blog.  If you're new to blog hops, here's how it works: Each blogger in the hop has a flower graphic included in their post that features 1/2 letters.  "Hop" from blog to blog and collect these letters in order to solve the phrase!  Each blogger has an image in their post to take you to the next blog and help  you get around the hop easily.  Once you have collected all of the letters, come back here to enter the Rafflecopter drawing below!
Now on to the freebie!  I have also created a fun spring-themed resource for you and your speech rooms!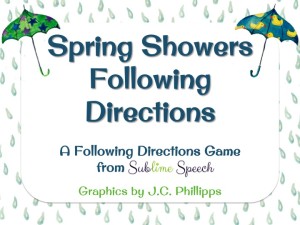 Spring Showers Following Directions is an activity to target following simple 1-/2-/3-step directions.  Included are:
 48 directions cards and 12 game-play cards…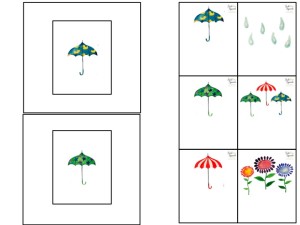 as well as 6 game-play mats and 6 blank cards for customizing!
Students work to either gather as many umbrella cards as possible or choose a umbrella design at the beginning of the game and work to collect that particular type of umbrella card.
To download this activity click here!
And now… the completion of the hop is here.  If you are just now starting, or have missed a few blog
s I suggest clicking the blue flower below to be taken back to the first blog!
Now on to the big prizes!  The 17

amazing

 bloggers have come together to offer you the following prizes:
1st Prize: $50 TpT Gift Certificate
2nd Prize: $30 TpT Gift Certificate
3rd Prize: $20 TpT Gift Certificate
To enter, first find the hidden flower clues on each blog post.  Then, unscramble the flowers as shown below to create a phrase.  Finally, simply enter the phrase as it is written into the Rafflecopter below.  A winner will be announced on April 16th!  Good luck and enjoy the freebies!
For your reference, here are a list of all participating blogs in the hop: