Have you had enough of winter yet?  Just when it seems like Spring is ready to poke it's head out from the snow (it was 83 degrees here on Friday), winter comes back to remind us that it isn't really gone for good yet (it's supposed to snow on a few days this week).  We won't let that damper our excitement for blooms and warmer temps!  A few of your favorite Speechie bloggers/TpT sellers have come together to offer an AMAZING Spring giveaway!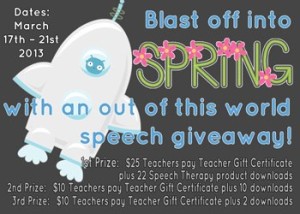 I will be giving away my
Hedgehog Grammar Unit
as part of this giveaway.  You can find out more about that
here
!  So enter below, visit some other Speechie sites, and enjoy!  Best of luck to you!!!