Welcome back to all of you who, like myself, have been lucky enough to have some much needed time away from work. I love the kiddos that I get to work with … but who are we kidding, breaks are one of the only big perks of working in a school! I've been very busy over break soaking in family time and traveling to and fro!
I also love to take some time each winter break to reflect on the year and prepare for the next. Like most of you, I don't spend EACH waking moment in speech sessions. I also don't devote all of my after-school time to blogging. I'm a lover of full plates and I keep mine almost TOO full at times… I thought I'd share my 2012 OUTSIDE of blogging and material creation. Since one of my side-gigs is photography, I threw together a little photo-themed 2012 review: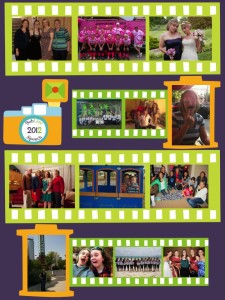 1: My mom's college roomie and best friend's daughter's bridal shower in April.
2: Coaching my 18 & Under Fastpitch Softball team at a Cancer benefit tournament in Spring.
3: Myself with the bride in May – we've become known for crazy faces like these.
4: Coaching my new 12 & Under Fastpitch Softball team in October – dressed up as Monarchs in Black. We coaches were the aliens of course!
5: Classy New Year's Eve with my cousin and her beau, sister, & mom.
6: More classy-ness and enjoying crepes outside in KC with my sister over the summer.
7: Myself with my dad, sister, and mom after Christmas Eve Mass in KC.
8: Riding the train with my Goddaughter in Panama City Beach in November!
9: Christmas party with my 12U Monarchs.
10: Myself at the Kansas City Boulevard Brewing Company – took my dad on a tour for Father's day.
11: Visiting my Architect sister at the University of Arkansas this Fall.
12: World Series with my 18U Angels in Panama City Beach in July.
13: Attending the wedding of a High School friend in June.
It was a pretty uneventful but busy 2012. As I move into 2013, I'm hopeful that it will be another great year. This year I'm looking forward to a Spring Break road trip, coaching my 12U Monarchs team all summer, attending ASHA in Chicago with some great friends, and making a decision about what the 2014-2015 school year will hold for me (planning a move!).
Of course, Sublime Speech will be a huge part of 2013! I have some great plans for this crazy little blog but I'd love to hear what YOU would like to see on the blog or TpT in lucky '13! Let me know by commenting below!
Finally, a huge thank you to each of you who follow the blog, facebook, twitter, and pinterest. An even bigger thank-you to each of you who have purchased materials from TpT this year! I'm so excited to continue creating affordable and free materials for you this year! I hope you have a very wonderful 2013!!!