We've been caroling in the speech room this week… and the songs have sounded a LITTLE bit different…
We've changed the words around in our own version of Christmas SongLibs. I have handy lists of words listed by phoneme from the SuperDuper Artic Tickle Stories but you can use any other artic list you have around. Simply fill in the blanks with the appropriate word (word-level practice), read through when finished (phrase/sentence level practice), and then sing the song when finished (sentence level practice).
You can also target grade-level vocabulary by providing a list of vocabulary to use in filling in blanks. It can also be used to familiarize students to what different parts of speech of (verb, noun, adjective, etc.)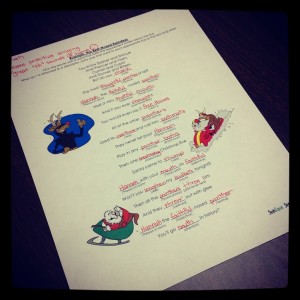 The kids find these HILARIOUS. The video above was done after 4 tries ended in the giggles. Isn't my singing volunteer awesome?!? He even holds out the last note for an added drama!
Grab this 3-song freebie at my
TpT store
… make sure to "follow" me on TpT while you're there!