I want to take a minute and thank EACH of you that have come across SubLime speech this year. It has been an amazing year for SLPs and social media and you are such a huge part of that. As my thanks to you, each day this week one of my TpT items will be on sale.
Here is what you can look for: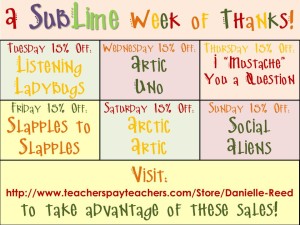 So check out the items, take advantage of the sales and ENJOY your Thanksgiving week!
Then, on Monday and Tuesday… Check out TpT's Cyber Monday (and Tuesday) deal! Sublime Speech will be participating so you can receive a total of 28% off all materials on the TpT site with the code "CMT12" at checkout! Click the photo below to be taken to my TpT site!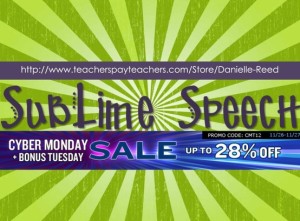 Check back after break for new materials for year-round therapy!