Happy Halloween SLPeeps!  "I love when Halloween is on a Wednesday"… said NO person who works with or has children EVER!  I hope you're surviving this crazy week!
We've been having a blast with the "I Mustache You a Question" material I posted last week.  However, it really helps me to see what students are still struggling with when it comes to answering and formulating questions.  Some of my younger grades that are working on answering just have zero idea what the question is asking.  My upper grades and children with pragmatic language difficulties are having a hard time knowing how to start a question and what form it should have.  They aren't sure what to put into the question.  We spent some time brainstorming and talking about what each type of question is and what it is asking and some examples of each type.  As an addition, I created some quick little reminder posters that I've placed on the board next to my therapy table as a reference in times of utter DISTRESS!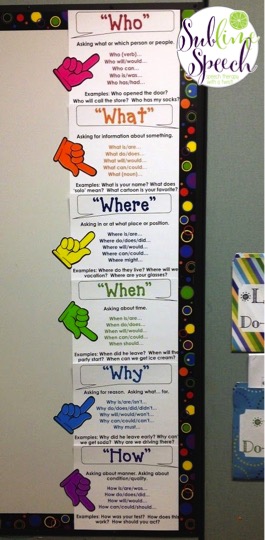 You can grab this document of posters free here.  It's nothing fancy but it can be a helpful resource for kiddos. (This link has been fixed)
Also… Our friends Smart Apps for Kids is giving away an iPad mini on their site…
click here to enter!
Enjoy Halloween!  I'm so ready for November!!!