I don't know about you, but finding social skills materials that are affordable, age-appropriate, and fun is SOOOOO difficult! This is a material that I developed with some of my students in mind who all have various social goals. Some students have difficulty in identifying the problem when given a situation. Others work to provide appropriate solutions. My older students have the routine answers down but struggle when it comes to conversing with others to solve a problem and come to a common decision that maintains their friendship long-term. So I've enlisted the help of the Laicos (social spelled backwards… I'm clever like that!) Aliens.
The premise is that these Laicos have come to Earth and are trying to fit in. Students work at Level 1 or 2 to identify problems, provide solutions, rationalize solutions, provide wrong solutions, and act out the situation and solutions (for older students). Students work to collect the Laicos by answering the target social questions… with a few planet, mothership, and enemy cards in the mix.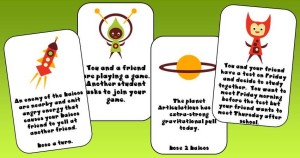 (For my blog readers, it was free this week to download and use, but has now expired.)
After that time, or if you can chip in a few dollars, it can be purchased at my
TpT store (click here)
. I ask that you only use it for your speech room and refer others to the store to download it.
Thanks and let me know how it works for you!