RtI, Response to Intervention, Interventiony-what-not, or whatever term you use… it's here and it's ready to go! Last year it took me by surprise after coming from the Early Childhood setting. What is this acronym, what does it mean, and what do I do with it?!? 3 letters striking panic in the hearts of SLPs across the nation, and maybe even the world!
Now, this is not an article about RtI… though, I would love ANY feedback on how you tackle this monster. I'm still finding my "way" with it. (My preferred method is to see all of my RtI students on an individual basis for 5-7 minutes, 4 days a week! So far the progress has been worth it!) This is an article about how I took RtI out of my secluded office and into the hallways and classrooms of my school. It's about how I'm now out and about, and how I see these students, and even teachers for collaboration, in our hallways without toting gobs of materials with me, and how you can too!
*****Warning, this is a slightly techie article utilizing iPad/iPhone/iTouch/etc.*****
Tired of carrying multiple decks? Try taking photos of a deck of cards (like the ones from Super Duper that are pictured here) with your iPhone/iPad/other device.
Then open your "Photos" app. Click on "Albums":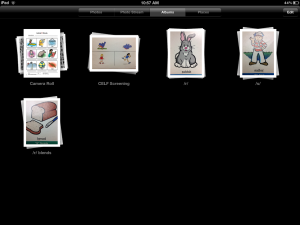 Then click "Edit" on the right side of the screen. The current albums you have will now look like this: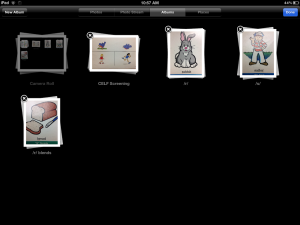 Then Click "New Album" and a new album will pop up. Name it – Seen here, the creation of an /s/ blends deck:
When you click "Save" you will automatically be taken to your "Photos" where you can select all of the photos for your new album. You can always add to, delete, and re-arrange photos later. Here I have selected all of my /s/ blends photos:
Click "Done" to copy the photos to your new "album". You will then be shown your new album:
If you click "Albums" at the top right, you will be taken back to your albums. The deck will now be shown, in alphabetical order, with your other decks. This is great to have ALL of your decks in one spot! You can do this for ANY deck you have… language, artic, etc!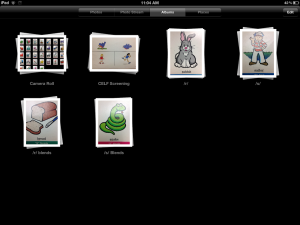 Articulation Drill Book on your iPad/iPhone/iTouch/etc!
Tired of making copies of your Webber Artic Drill Book? Well, I purchased the CD-ROM and if you have done the same… this will save you SO much time and paper! This is how to take the PDF from the CD and place it on your iPad!
First you will need to insert the disc into a computer. Open the disc and go to the "PDF" folder. In that folder will be the color and the black and white versions of the PDF files. I chose to put the color version on my iPad.
Then, I used "DropBox" to move my file. I did this by creating a dropbox account, uploading the PDF from my computer via the DropBox site, and then using the DropBox app on my iPad. You can also use iCloud, GoogleDocs, etc.! You may even be able to e-mail it to yourself, I could not do that. If you aren't using DropBox, you can skip the next 2 pictures:
Once uploaded to DropBox via the site, open the app on your iPad/iPhone/iTouch and select the JumboArtic File:
On the right side, select the arrow in the box, then choose "Open In… iBooks":
Your book will move to the PDFs section of your iBooks app! (You will not have to repeat these steps, it's here for good):
Click on the Book on your shelf to open the PDF file: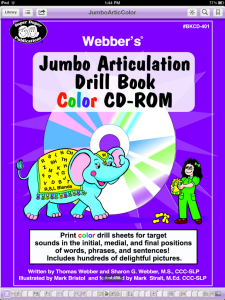 If you click the "list" icon (next to the Library button on the top left) you will get this great view: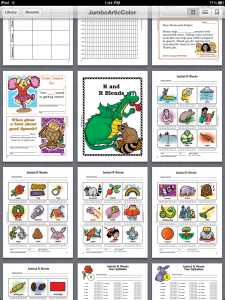 Then, simply touch the page you wish to open, swipe through them like you would the regular book. You can also pinch to expand/decrease the size of the pictures to make reading it easier!
Now you have your ENTIRE Drill book at your hands! This method also works for any CD-ROM based material that has a PDF option included!
These two methods have made me a very mobile SLP for RtI! I can see multiple students in short bursts without toting around a cart or arms full of materials! The kids love anything on the iPad too so it's a double-bonus! If you have any suggestions for non-Apple products or other methods for becoming more mobile, I'd LOVE to hear them!!!