(Because it's football season, I wanted to re-post this activity for you from May, ENJOY!)
I'm a sports girl. Give me a field and a ball and I'll play! So, I love to integrate sports into my sessions. (It helps that the majority of my caseload is boys though most of my girls enjoy the activities too) The NFL draft was just a few weeks ago and then this weekend as I was perusing the dollar spot at my favorite store with a bulls-eye logo I found a great little item that I've turned into a football game. So, if you're interested, go pick it up for $2.50 while it's in stock! If you can't find it or don't want to spend $2.50 for this sturdy (chalk)board, there is a paper copy on the cards document for you!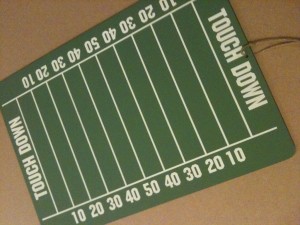 This reinforcer game is simple. You start on the 20 Yard-Line and then begin drawing cards. The cards are passes, runs, and fouls for positive yardage as well as turnovers and fouls for negative consequences. The object is to get your pawn to the 0 yard line (TOUCHDOWN!) and score. Each time you do this, you may credit yourself/your team with 7 points and/or take a brown football "Touchdown Chip" provided in the document. The team/person with the most points/chips at the end of the game is declared the victor!
As usual, there are two links provided. One, of course, is the free document. However, as taking time to create and post materials adds up, I've begun uploading some documents to "Teachers Pay Teachers". If you are willing to "purchase" that version instead of the freebie, I would greatly appreciate it. If not, the freebie is available to you as well. Either way, thanks for coming to visit Sublime Speech!
Do you see other ways to use this material and/or the board? Please share with us!