I have a confession… I'm obsessed with board books!  I particularly enjoy finding them for the least amount of money possible!  They are great for early intervention, early childhood, and the severe/multiple disorder populations.  This summer, I have the opportunity to get back to the population I LOVE working with… severe/multiple disorders and Autism!  One thing I believe whole-heartily in is incorporating reading with AAC whenever possible.  This is where my small collection of thick-page cardboard loveliness comes into play… I've been creating boardmaker symbol sets to insert into board books for my summer kiddos!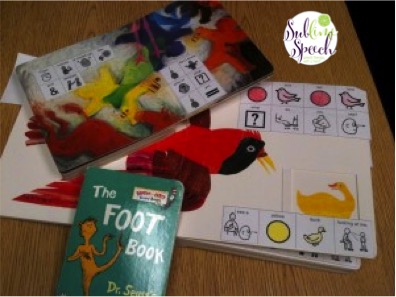 I know there are a lot of available augmented books on the web.  However, some of them use symbols that are outdated or do not fit into the books.  The reason I put the symbols into the book (with tape) is simple… that's where the words are so that's where the symbols belong.  Many of my students have difficulty moving from the augmented book print-out to the actual book which contains the great color and illustrations which are vital to the books!  So, I create my symbol sets to fit over the existing words (as best as possible) so that the natural flow of reading is promoted.  I also include punctuation, capitalization, and ALL words just as they appear in the book.
Here's how I do this:
1. Create the symbol sets in Boardmaker… sometimes this requires measuring the available space in the book which, I admit, is a bit more work but totally worth it.
2. Printing out the symbol sets either in black and white or color.  I suggest using black and white for the majority of the symbols and making sure that all color symbols are in color (or that you color them in with marker/colored pencil).
3. Tape the symbol sets into the books on top of the existing words.
4. Read!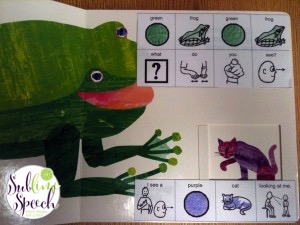 Also, sometimes my students can use their device to read along with the story or a majority of the story.  They can answer questions about the story, etc.!  It's exciting to see them read more independently with the addition of these sets!  I will be adding to this list as the summer progresses but for now, enjoy these PDF versions of the Boardmaker sets.  I can also e-mail the boardmaker files but wanted to post PDF versions for those of you who aren't lucky enough to have Boardmaker yet!