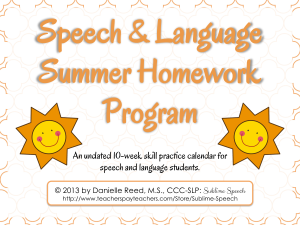 For those of you in the school setting, summer is a wonderful time that we look forward to!  However, we know that oftentimes, our students do not continue to work as diligently on their speech and language skills during these weeks off.  I'm a huge believer in providing parents/guardians with the resources they need during those months to continue to work on speech and language skills at home with their children.  There are many resources for summer activity packets/calendars available throughout the web but many of those are out-dated or not exactly as open-ended as I would like.  Others are tailored to much younger children and therefore not appropriate for my kiddos.  So… I made my own for the coming summer.  What I like about this is that it is broken up into two 5-week calendars without specific dates.  I also created a letter and resource guide for parents/guardians.  Many of my parents have already begun asking for these documents to continue working on skills and to keep the kids a bit busier over the summer!
Thanks for coming to visit Sublime Speech!
What summer activities do you send home with your students?