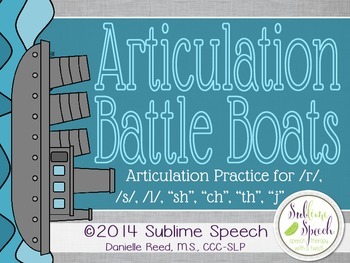 Ahoy Mateys!  It's a busy time of the year with evaluations and standardized testing but I have managed to squeeze out one new idea recently.  I have had TONS of requests from my students for me to "find" my Battleship game that had "magically" disappeared from the speech room after countless failed attempts to teach the kids how to do it correctly.  So, I pondered a way to bring it back for my higher students who make up the majority of my artic caseload.  The result is Articulation Battle Boats:
To Make this you will need:
The Battle Boats Documents:
Download the
PDF files
File folders for each game
Glue/Rubber Cement
Access to Lamination (or an extra dose of creativity)
Overhead/Washable markers (work best) or Dry Erase Markers for each student OR Creativity with the "marker" page provided above
Glue the boards to the file folders and laminate.  I would advise laminating the boats as well.  I provide my students a tiny piece of tape to keep their boats from "floating away" on the bottom but you could use velcro, etc.
To play:
Rules are just like classic Battleship.  Each student places their "boats" on the bottom section, keeping it hidden from their opponent.  I like to provide them a file folder box to help keep the folder upright (pictured above).  Then the students take turns saying the 2 artic words which will provide the coordinates for their guess (i.e. "Raft Robin").  The other student then says hit or miss and the first student marks it on the top section using the dry erase or overhead marker or using the "markers" document provided above.  They then work to be the first to sink the opponent's boats.  We rarely finish a game during our sessions but the students have really enjoyed this addition to our room – not that it stops them from asking where the "real Battleship" has gone! 🙂
I will be working to add other sounds so please suggest which sounds you need below and I will fulfill those first!  Please feel free to comment, leave suggestions and questions, and share with friends!